The year 2021 has been a busy and rewarding one for Charlie Frenal, a Canadian Filipino artist based in Kelowna, B.C.
It's not only because his paintings have been featured in four current and past exhibitions at the Federation Gallery in Vancouver.
The gallery is owned and operated by the Federation of Canadian Artists in the city's popular destination, Granville Island.
Notably, Frenal won first place in the artist federation's 2021 Annual International Mail-in Art Exhibition.
As Frenal related on social media, the competition saw participating artists from a dozen different countries.
"My artwork New Day is all about a new beginning. New hope awaits!" the self-taught artist said.
Among Filipino speakers, the term 'new day' literally translates to bagong umaga, and its figurative meaning speaks about fresh beginnings and rising from challenges in life.
"Every new day is always an opportunity for us to change," Frenal said.
As an artist, Frenal finds inspiration in nature and culture.
"This painting represents Filipino fishermen and their way of life, starting their day with hope, courage and resilience," the Philippine-born Frenal explained about his acrylic on canvass painting.
New Day and hundreds of other works respond to the exhibition's theme of "Change" for the 2021 competition.
The exhibition started on March 29 and will run until April 18, 2021. Visitors can find the Federation Gallery at 1241 Cartwright Street in Granville Island.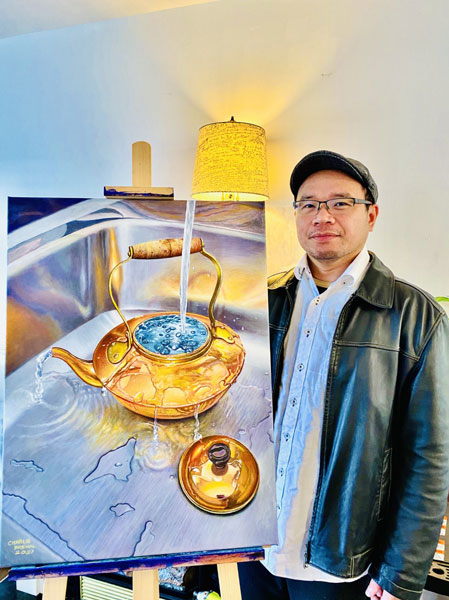 Charlie Frenal with his work My Cup Runneth Over.
Previously, Frenal won an honourable mention award at the federation's Water Exhibition 2021.
His work My Cup Runneth Over is acrylic on canvass, and pays homage to "God's love, mercy, grace, hope, and abundance".
This painting was part of the exhibition that ran from March 1 to March 31, 2021.
Frenal's works were also featured in two other shows at Federation Gallery this year.
The Canadian Filipino artist was born in Polomolok, a town in the Philippine province of South Cotabato.
He was an architect and visual artist by profession in the Philippines before he and his wife and their daughter migrated to Canada in 2012.
The couple was blessed with a second child, who was born in Calgary, Alberta. The family moved to Kelowna in B.C. in 2016.
Frenal currently works as a mechanical engineering designer at AECOM Engineering in Kelowna.
On June 1, 2020, Canadian Filipino Net reported about the newly formed Filipino Canadian Art Museum of Filipino heritage champion Mona Lavina.
The organization unveiled its maiden project, an online exhibition called Strong and Beautiful: Cultural Treasures from the Philippines and one of the featured artists was Frenal.
A 2019 version of Strong and Beautiful was held at the Kamloops Museum in B.C. It was also curated by Lavina, and Frenal was one of the featured artists.
In addition, Frenal as well as Vancouver artist Esmie Gayo McLaren contributed works in that year's Generations Under the Sun, an exhibit celebrating Filipino heritage in Canada.
Frenal can be found on Facebook (https://www.facebook.com/charlie.frenal) and Instagram (https://www.instagram.com/charliefrenal_art/)
---