With the pandemic hanging over our heads, it is not surprising that even in Canada, Christmas comes early – in festive outdoor decorations, carols playing on the airwaves and romantic Christmas movies on TV. In one Hallmark movie is Canadian Filipino actress Kat Ruston playing a supporting role in Good Morning Christmas!
Good Morning Christmas! tells the story of two morning show hosts, Brian and Melissa, whose on-screen chemistry betrays their off-screen bickering until a location shoot of a small-town changes each other's perceptions. Ruston plays Christy, a famous actress who comes into the picture and rocks the developing bond between the two main protagonists. The film is currently streaming on the Hallmark Channel and W Network.
Of her experience with the Hallmark movie, Ruston says, "Working on Good Morning Christmas! was such a joyful experience. It is amazing how our cast and crew made this Christmas world come to life while we were filming in the October. I am a huge fan of the holidays, so it was a treat for me to witness the transformation whenever I stepped on to a new location."
The Vancouver-based actress was born in Cebu, Philippines and immigrated to Canada with her parents when she was just a toddler. Ruston grew up on Vancouver Island, in the city of Nanaimo where, despite being an only child, she was surrounded by aunts, uncles and a grandmother. She describes Nanaimo as "a city by the sea, not too small or too big but just enough to have a balance of both wildlife and 'city' feel."
In an exclusive with Canadian Filipino Net (CFNet), Ruston recalls growing up on the Island, excelling in academics and in sports - volleyball and basketball. "After high school, I studied nursing but decided to commit to my dreams after a few semesters." She moved to Vancouver and took on Kat Ruston as a screen name. Her family name is Rafols with roots in Talisay, Cebu.
Ruston describes her experience filming during the pandemic "interesting". "I appreciated the care and diligence from the production as they placed COVID protocols to protect the cast and crew," Ruston shared. "Everyone took responsibility for the safety of others and themselves. It was lovely to witness and be part of the support as we did our best to navigate the pandemic during filming."
Good Morning Christmas! is not Ruston's first foray into Christmas movies. In 2018, she was in another Hallmark movie, GodWink Christmas. But more popular than these movies are two sci-fi Netflix TV series that Ruston worked on: The 100 and Altered Carbon where she worked both as cast and crew.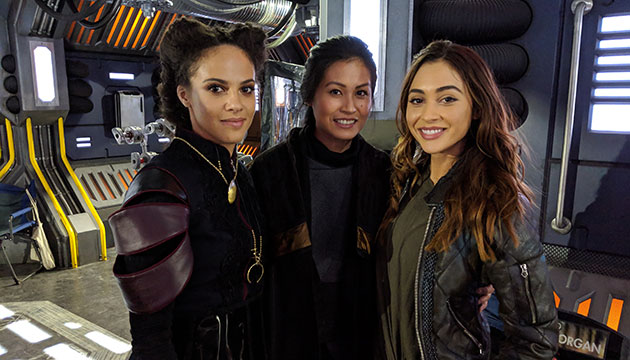 Ruston (middle of photo) with castmates in Netflix series The 100.
Ruston has been in the film and TV industry for over 10 years now and credits the various jobs and productions she has been involved in her own growth as an actress. "I try to keep myself available to each experience as they all offer me support in different ways," she shares with CFNet. "Acting is an integral part of my life; I wouldn't be doing anything else."
She observes that diversity is now more palpable in the industry but cautions that one still needs to work hard in this highly competitive field. "Ultimately, every job is highly competitive," she tells CFNet. "I think it's our responsibility to create content for us. We need to be brave in forging our path too and not depend on others to do it for us."
Ruston hardly takes time off. She just finished wrapping up for Altered Carbon and Van Helsing on the Syfy Channel.
---
---