January 16, 2021 - The Filipino Catholic Ministry of the Archdiocese of Vancouver (filipinoministry.ca) invites Canadian Filipinos to join the celebration of the centuries-old image of the holy Child Jesus with a novena and Mass on the Sto. Niño's feast day, January 17. It will be held at the St. Anthony de Padua Church in Agassiz, 7237 Morrow Road. The mass will be virtual (livestream) as churches are still not allowed to gather for worship per Provincial Health Authority Covid restrictions.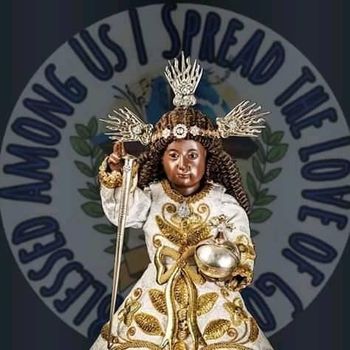 Carved in dark wood, the Sto Niño De Pandacan in Manila was lost in a fire. Photo from Facebook of the Sto. Niño De Pandacan organization.
The virtual novena and Mass starts at 8:30 am on Sunday, January 17th, with Rev. Dennis Flores presiding. It may be accessed by going to the parish Facebook page at https://www.facebook.com/stanthonyofpaduaagassiz.
To celebrate the 500th anniversary of the Sto. Niño throughout the year, the Filipino Catholic Ministry has organized 40 of its coordinators to bring one of the commissioned Sto. Niño statues to homes of those who wish to sponsor a novena for the Sto. Niño in their homes for nine days. Interested parties may contact Mike Calingo at This email address is being protected from spambots. You need JavaScript enabled to view it. for details. The prayers for the novena may be downloaded from the St Anthony of Padua parish website.
This year's Sto. Niño celebration is doubly significant because on July 10, 2020 the Pandacan catholic church which has been home for the Sto. Niño in the Philippines for years was burned in a three-alarm fire that gutted the church as well as the convent attached to it. The miraculous 400-year-old image of the Child Jesus, carved out of dark wood, was not saved from the fire.
Church workers found only the burnt globe and the scepter of the Sto. Niño among the ruins.
It is believed that this black image of the Sto. Niño of Pandacan is more than 400 years old because the black wood is strikingly similar to the dark Mexican wood of the images of the Black Nazarene of Quiapo and the Black Madonna of Antipolo. This suggests that like the latter two images, the Sto. Niño of Pandacan was brought to the Philippines by the Spaniards via galleon trade from Acapulco, Mexico to Manila, Philippines which lasted from 1565 to 1815.
---