Theater actor and feminist Monica Ogden took hateful comments from trolls and her personal experience with intergenerational trauma together to come up with a one-woman show dubbed Monica vs. the Internet enjoying two runs with two fringe festivals in the last few years.
The tales of this social justice warrior began about five years ago when she took to YouTube to share what she was learning about systemic racism, white supremacy and other forms of oppression. Ogden initially enrolled in a theatre program at the University of Victoria but soon found herself unhappy with it. She took a few other classes until she immersed herself in Gender Studies.
"I had always considered myself a young activist and it was in Gender Studies where I was finally able to learn the language of social justice and activism," Ogden shared exclusively with Canadian Filipino Net (CFNet). "I wanted to share this education online because I view my education as a privilege that so many others may not have access to, so I started making YouTube videos." The series was never downright preachy, often funny and sometimes cheeky. "It was a place where I could have a voice as a young mixed Filipina to talk about what was important to me," she adds.
But the experience of exposing herself online wasn't exactly encouraging. "It was definitely an attempt at a crusade against white supremacy, but unfortunately online hatred and trolls made it really hard to continue making videos," Ogden remembers. She was caught between the theatre ("a place that didn't want me or my ideas") and sharing her thoughts online, a world that was as cruel and unforgiving. "There really wasn't a space for me to exist so I had to make it myself," she confirms. She brought online hatred, intergenerational racism and misogyny together and used theatre to create Monica vs. the Internet.
There was a wealth of material to work on. Ogden refers to herself as a third of what she calls the "Pinay Gilmore Girls" which consists of herself, her mom Dee Ogden and her grandmother Lilang Miling, who immigrated to Canada in 1966 as part of a nursing program in Kapuskusing, a small town in northern Ontario. "Lilang" is a derivative of the Ilokano term for grandmother.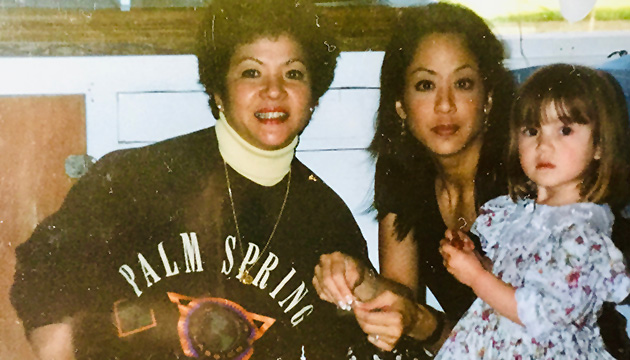 The former Germelina dela Queva is a native of Ilocos Sur, Philippines who hadn't realized she was already pregnant on her way to living a new life in Canada. Ogden muses, "She called my mom the 'stow-away'." Miling and her husband had eloped in the Philippines, but things changed for Miling when her husband abandoned her upon arrival in Canada. "Her strength inspires me" is what Ogden had to say about her Lilang who was unpopularly single and pregnant in the 60s in Canada.
Ogden's foray into social media was also an abundant source of material. "The online world was cruel!", says Ogden who uses some of the online comments thrown her way in the show. One of those comments and which the production has used in promoting the show: "Monica Ogden is the worst looking Asian I ever saw. Filipinas are supposed to be hot, not feminist."
The idea for a one-woman show percolated in late 2015 and almost two years later in 2017, her pitch for such a show was drawn in the annual Victoria Fringe Festival. She shares with CFNet, "As soon as I realized it was going to be a reality, I asked KP (formerly known as Ann-Bernice Thomas) if they wanted to direct the piece." The two started collaborating and shaping the story until it became a first version of the show that won Pick of the Fringe award in Victoria. "KP helped me dig down really deep into my stories, into the vulnerable places I didn't want to go to, and we made a show." Ogden felt that the process of developing the show was a "whirlwind" and knew back then that she wanted to develop the show even further.
Fast forward to January 2019 when the show again got picked from among 195 entries to the Canadian Association of Fringe Festivals (CAFF). Ogden phoned her director KP: "I told them, and we started screaming together on the phone! It's almost unheard of to be drawn on your first try entering the CAFF lottery, and we did it." The story further developed into something completely different from the 2017 show. "I love what the show became," Ogden tells CFNet. "Now, it shares the stories of my mom and Lilang, our relationships with one another, the comedy that can be found in the hatred I receive online, and what it means to share intergenerational trauma with your family."
Critical reviews of the show this year were both abundant and mixed, the temperament depending on how the show was viewed and who viewed it (think people of colour and not). Style and arts editor Janet Smith of Georgia Straight enjoined her "fellow white people (to) go listen to what Ogden has to say", describing the show as "a necessary piece of art and an urgent call to action."
The 2019 tour ended in September with shows staged in Toronto, Winnipeg, Saskatoon, Edmonton, Victoria and Vancouver. Vancouver was the last of the six cities and where Monica vs. the Internet enjoyed a sold-out closing weekend. "Since then we've met so many amazing Filipinx families, Black, Indigenous, people of colour who are artists, theatre lovers, etc. and it's completely changed my life," says Ogden. "I want Filipinx to know that they are seen, that they can do this work and that our company will support them and their voices." The show was one of two runners-up for the TD Fringe Forward Award which celebrates artists whose work centres the historically marginalized.
The six-city tour in three months exhausted Ogden who has mobility issues and compromised immunity among other health issues. But that didn't stop her from doing one more show at the John Candy Box Theatre in Toronto early in November following the Tita Collective show. In the future, Ogden plans to not only to continue applying to festivals for Monica vs. the Internet but to also start writing a new show about brother James which she plans on calling Kuya. The journey over the last few years has energized Ogden, "We're going to continue doing this work, and I can't wait!"
---
---