The Philippines Canada Trade Council (PCTC) recently held a forum where candidates from the two leading political parties in B.C. were invited to expound on their achievements, discuss issues, and assess where B.C. is today in terms of trade, housing and health care, among others.
Candidates from the B.C. Liberal Party and the New Democratic Party (NDP) presented their party's election platform and vision for BC. They discussed why voters must elect them to the Legislative Assembly during the provincial elections on May 9. They took potshots at each other during the well-attended PCTC Special Open Networking event at Hilton Vancouver Metrotown last April 21.
PCTC, a non-governmental association in Canada promoting and assisting trade and business between Canada and the Philippines, likewise promotes fellowship among Filipino and Canadian professionals and businessmen.
The B.C. Liberals were represented by Suzanne Anton, candidate for Vancouver-Fraserview and current B.C. Minister of Justice and Attorney General, and Amrik Virk, candidate for MLA Surrey-Tynehead and current B.C. Minister of Technology, Innovation and Citizens Services.
The B.C. NDP, on the other hand, sent re-electionists Mable Elmore, a Canadian-Filipino legislator for Vancouver Kensington, and Raj Chouhan, MLA candidate for the Burnaby-Edmonds riding.
The candidates fielded questions from moderator Edmundo Guevara, PCTC director, as well as from the audience.
The unaffordability of housing in Metro Vancouver, rising costs of utilities, expensive health care and education, and restrictive immigration policy are among the concerns of Filipino-Canadians. On this, the NDP appears to offer more responsive solutions.
The Liberals' strongest suit is the vibrant B.C. economy.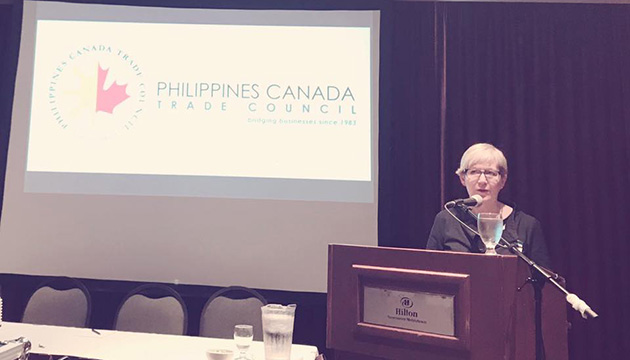 "Under the Liberals, B.C. has emerged as Canada's strongest provincial economy with Triple A credit rating," Anton said.
"B.C. has enjoyed a balanced budget since 2013, recording four surpluses in a row," she added.
B.C. likewise boasts of the lowest unemployment rate in the country as well as the best health outcomes. "Seniors live longer in B.C.," Anton claimed. In terms of educations, B.C. kids are the smartest in the English-speaking world. Anton cited statistics showing Grade 10 students here are better than those elsewhere.
She touted trade diversity in the province as evidenced by the opening of the first Trade and Investment Office in Manila, the first in Southeast Asia.
B.C. Liberals want more people to come into B.C. and are keen on expanding the B.C. Provincial Nominee Program. "More skilled workers are extremely welcome. We want more Filipinos in BC," Anton said.
Virk, on the other hand, talked about his immigrant story. He, like many Filipinos, learned to fight intolerance and racism. He learned the value of "spending less than what you earned" from his father, which he wishes to apply to governance in B.C.
The Technology Minister added that B.C. is now moving from advanced education to tech innovation emphasizing creating tech solutions to emerging needs. "For instance, B.C. hosts the Data Analytics company which provides tech support for Boeing operations, among many other companies," Virk said.
According to Virk, BC under the Liberal government enjoys its lowest unemployment rate in 50 years. "We created 200,000 jobs, of these 80 or 90 percent are full-time jobs," he cited.
He expects the B.C. economy to sustain its growth under the Liberal government.
Elmore, a second-generation Canadian-Filipino, whose mother hails from Cebu, advocates grant of "landed citizen" status to Filipino workers in Canada.
On the rising cost of living in the province, she said: "B.C. under the Liberals suffers from affordability crisis in housing, health care and education. We've endured 16 years of inaction."
According to Elmore, immigration policies do not favor Filipinos, who come to Canada usually with the highest educational attainments but end up receiving the lowest wages. She also said immigrants wanting to upgrade credentials have to overcome big barriers.
"No action has been taken by Liberals toward the recognition of foreign credentials, in contrast with Manitoba and Alberta," Elmore complained.
She likewise noted that the success rate for young people is low because B.C. has the highest interest on student loans, and there is high student debt. She said NDP will provide interest-free student loans. Elmore added that there is "chronic underfunding" of schools while the dropout rate for immigrant youth remains high.
Elmore promised fair treatment for foreign workers and, of reduction, if not elimination, of recruitment fees.
"The Filipino community has not been well-served by B.C. Liberals, as exemplified by Bill 29, the controversial legislation which excluded health and community social services workers, including Filipinos, from labour laws that protect other workers in the province."
Chouhan, an immigrant from India, joined the NDP in 1975. In 1985, he claimed that he was almost killed in the Philippines during a fact-finding mission by the United Church of Christ.
He labeled the 200,000 jobs claimed to have been created in B.C. as "fake news." "In fact, 30,000 jobs in forestry were lost." He described as "tokenism" the Liberals' opening of its trade office in Manila. "It only has one employee and does not really help British Columbians."
He said the province has the highest child poverty rate. "It is also the only province without a Human Rights Commission," he noted.
---
---