Genevieve Fontanilla was not unlike many newly-immigrated Filipino Canadian teenagers. She was smart, but had difficulty finding direction in the midst of upheaval that often characterizes the early years of the immigrant experience.
Educational performance is often stalled when newcomer youth need to adapt to new social, educational, cultural and economic circumstances. It is not surprising then that Fontanilla's story and stories like hers have become a topic of interest and concern for academics and members of the Filipino-Canadian community.
It was certainly a topic of interest and concern for a small group of Filipino Canadian students at the University of British Columbia in 2008. Not seeing themselves represented in the broader university community led them to ask why and led to further reflections about their own educational experiences. It was those reflections that sparked the creation of the Kababayan Academic Mentorship Program, or KAMP for short.
KAMP provides 1.5 and 2.0 generation "Ates" and "Kuyas" for newly arrived youth
For the past eight years, KAMP has been providing academic and social support to newly-arrived Filipino Canadian high school students. KAMP began as a pilot project in partnership with Vancouver School Board Multicultural Liaison worker, Joy Jose. The program pairs post-secondary students from UBC, SFU, Kwantlen and Langara with high-school students in the Vancouver School District for weekly academic and life-skills mentorship sessions.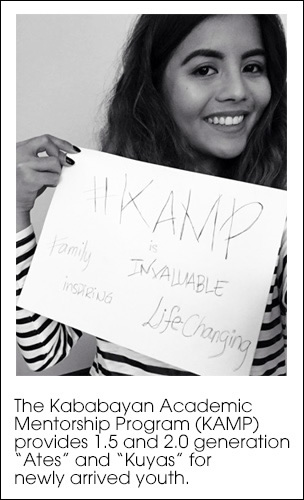 KAMP is a tangible way to deal with the structural effects of the immigration experience that youth feel in very personal ways. By providing access to "ates" and "kuyas" (ie, sisters and brothers), KAMP aims to address the issue of educational incompletion by supporting Filipino-Canadian students like Fontanilla to not only obtain their high school diploma but also pursue post-secondary education.
At its heart, KAMP is about making space for newly-arrived Filipino students to make good on their potential and natural ability, in spite of the challenges associated with immigrating to a new country. As Sol Diana, a 4th-year UBC KAMP mentor studying First Nation, indigenous issues, and political science, reflects: "I have come to realize that where there is hardship, there is also excellence. Where there are challenges, there is also brilliance, leadership, profound happiness, and unspeakable confidence… One of my biggest takeaways from being involved with KAMP is this mindfulness of my responsibilities. Yes, I have an obligation to address the various challenges these youth face, but I also have an obligation to help hold space for the brilliance of these youth, and listen to their wisdom. They continue to mentor me."
Mentoring benefits both mentee and mentor
Although high school students are KAMP's focus, the benefits of KAMP go well beyond those students. KAMP also represents a learning opportunity for post-secondary students to engage with their community for the first time. Michelle Oreta, 4th-Year economics UBC KAMP mentor, explains that "[t]hrough the relationships established at KAMP, be it between mentors, between mentees, or between mentors and mentees, I was able to see how easy it was to help better someone and make a lasting impact on them. More importantly, KAMP has allowed me to see that making a difference in someone's life is a two-way street because in bettering someone else, they better you."
KAMP is a tangible way to deal with the structural effects of the immigration experience that youth feel in very personal ways. KAMP is also a way to connect a deep, and often uncrossed, generational divide between 2nd generation and newly-arrived youth who share the same heritage, but yet experience Canada in very different ways. In a safe space, both newly arrived mentees and second-generation mentors navigate cultural and linguistic differences and find common purpose and connection. For other mentors who may have also immigrated during high school or early university, it is a chance to provide support in a way they wished they could have had for themselves.

2016 is a year of growth for KAMP
The 2015/2016 school year was the first time that KAMP had expanded its pool of mentors to include post-secondary students from Simon Fraser University, Langara College, and Kwantlen Polytechnic University, in addition to UBC. KAMP also received an Antipode Scholar-Activist research grant, and will be partnering with Filipino Canadian professor John Paul Catungal on a one-year project that will re-engage alumni mentors and mentees. Additionally, KAMP will host its first summer camp at Loon Lake. Summer KAMP 2016 (as its organizers call it) will bring together 30 youth and mentors to experience KAMP's programming in the outdoors.
KAMP's programming also came full circle in 2016. Fontanilla and her sister Nympha, both former mentees, are assisting KAMP assess its organizational development as part of a project for their Bachelor of Business degrees at Langara College. That amazing development is possible because, as Fontanilla puts it, "Being at KAMP every Friday after school, surrounded by aspiring lawyers, sociologists, nurses, and accountants, showed me that I had no limitations and that I have a place in my new world if I choose to take it. Every week, our mentors showed us that we can be ambitious, driven, and motivated without the fear of not belonging."
It is in the balance of teaching and learning that KAMP continues its work of bettering the Filipino-Canadian community in this generation and the next.
---
---