A celebration of migrant arts will be on full display at the Roundhouse Exhibition Hall in Vancouver from July 8 to July 12.
Fixated on the synergy between the poetry of Lakshmi Gill and the art of Lenore R.S. Lim, Scattering & Gathering promises to be an illustration of the creativity and talent of migrant Filipinos in Canada.
The exhibit, which shares its title with Gill's collection of poem, will also feature the works of Filipino artists Danvic Briones, Chito Maravilla and Esmie Gayo McLaren. Also included are poets Maria Castillo and Wilbur Victoria, as well as photographers Stuart Naval Dee and Art Calapatia. Curated by graphic designer Jing Palad, Scattering & Gathering will have its opening launch on July 8 from 2 p.m. to 5 p.m.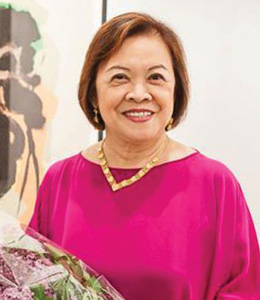 According to McLaren, the inception of the exhibit started with a book idea. Gill and Lim had considered amalgamating their works into a book, which eventually manifested itself as an exhibit proposal for the Roundhouse Hall.
As the theme of Filipino Migration suggests, both Gill and Lim – and the rest of the artists involved – have had their wealth of experiences as immigrants amidst the Filipino diaspora.
The focus on migration also presents a topic that is apropos to the ongoing issues south of the border, and the rest of the world. "Now, more than ever, migration is shaping countries and cultures worldwide," McLaren shared in an exclusive interview with Canadian Filipino Net. "Scattering & Gathering is an artistic collaboration that showcases the feelings and sensibilities surrounding the artists' own stories of migration. It encourages conversation and discussion about the topic and the attendees' own migration stories."
The works of the two pillar artists display as much. Gill's words are known for her observant takes and critiques regarding her experiences not only as an immigrant, but also as a multi-ethnic individual. On the other hand, Lim's work is a combination of her passion and love for her Filipino heritage with the artistic philosophies and technicalities she learned abroad.
As part of the exhibit, McLaren will be showcasing some of her endeavours in printmaking. "They are watercolour monoprints on canvas, landscapes that illustrate the backdrop of thoughts and emotions of a 12-year-old girl, a new immigrant to Canada," said McLaren, referring to her own migrant experience. "I chose to write my artist statement for both pieces in a poetic format to continue the spirit of this exhibition of poems and prints."
While Scattering & Gathering aims to shed light on the stories and talents of migrant Filipino artists, the hope for how it might resonate to others might be even greater. "I hope other aspiring artists will be inspired by Scattering & Gathering exhibit," said McLaren. "We must strive to achieve our dreams, but above all, we must dream because the dream is the star that would light and guide us on our life's journey."
To further emphasize the significance of the exhibit, McLaren cited the words of Gill herself: "I am grateful for the timing of this exhibit in light of the current state of asylum seekers in America. It celebrates the historical significance of Canada, an immigrant country. Thank you all for this collaboration."
---