The die is cast. As of May 13, almost all election returns within the Philippines and 70 percent of those within Canada have been received by the Commission on Election (Comelec).
Presumptive president-elect Ferdinand Marcos Jr., son of deposed dictator Ferdinand Marcos, already announced on social media his first pick of cabinet secretary in running mate and presumptive vice president Sara Duterte, only daughter of current Philippine President Rodrigo Duterte, notorious for his extrajudicial killing of suspected drug dealers. The Duterte daughter is reported to have accepted the appointment as Secretary of Education despite earlier talks of her handling the Department of National Defense portfolio.
In Canada as of Canadian Filipino Net (CFNet) deadline, about 60 percent of all votes cast in each precinct went to Marcos Jr. while current vice president Leni Robredo held just over 30 percent.
In the vice-presidential race, Sara Duterte dominated with numbers within the mid-60 percent of votes from all precincts that have submitted, followed by Robredo's running mate, Senator Francis "Kiko" Pangilinan, a distant second with just a quarter of total votes received.
Almost 14,000 Filipino Canadians voted for Marcos Jr. while over 6,000 votes went to Robredo. Duterte received over 14,000 votes with Pangilinan, again a far second, at almost 6,000 votes.
All other presidential and vice-presidential candidates garnered less than 10 percent of all votes combined.
Among senatorial hopefuls, the top five spots in Canada went to House Deputy Speaker Loren Legarda, actor and former convict Robin Padilla, Secretary of Public Works and Highways Mark Villar, Sorsogon governor Chiz Escudero and radio personality Raffy Tulfo.
To date, election returns from six out of nine precincts from the Vancouver consulate region and all of Calgary's nine precincts have not yet been received. Live results are available on the Comelec's election dashboard: https://2022electionresults.comelec.gov.ph/#/dashboard
For the next six years, following the presidential inauguration slated for June 30, the Philippines will be led by children of strongmen and heads of political dynasties because the abolition of political dynasties has been a failed exercise by members of the political opposition.
The "BBM/Sara" tandem campaigned hard on its theme of "unity" while avoiding debates and interviews by mainstream media and having an absence of a platform. Robredo/Pangilinan's platform of Sa GobyernongTapat, Angat Buhay Lahat, despite the massive pink rallies and fervent house-to-house campaigns by volunteers, mostly young from all walks of life in the Philippines and abroad, since the start of the campaign, evidently failed to close the gap in both surveys and elections.
Bayan Muna party list group in Canada recently submitted a formal protest over the "uniformity in the ratio of votes between Marcos and Vice President Leni Robredo, and their respective running mates Sara Duterte and Kiko Pangilinan." In its certificate of challenge, the group claims that the ratio is highly improbable which raises questions about the integrity of the vote counting machines. The Koalisyon Kontra-Daya and Malaya Movement Canada also question the uniform lead.
In November 2021, Commission on Elections entered a contract with F2 Logistics, a firm tied to Davao businessman Dennis Uy and a known Duterte crony, for the distribution of ballots, vote-counting machines and data transmission services for the 2022 elections.
Several election-related protests have taken place nationwide in the Philippines as well as in the US led by those opposing the return to power of the Marcos and Duterte families.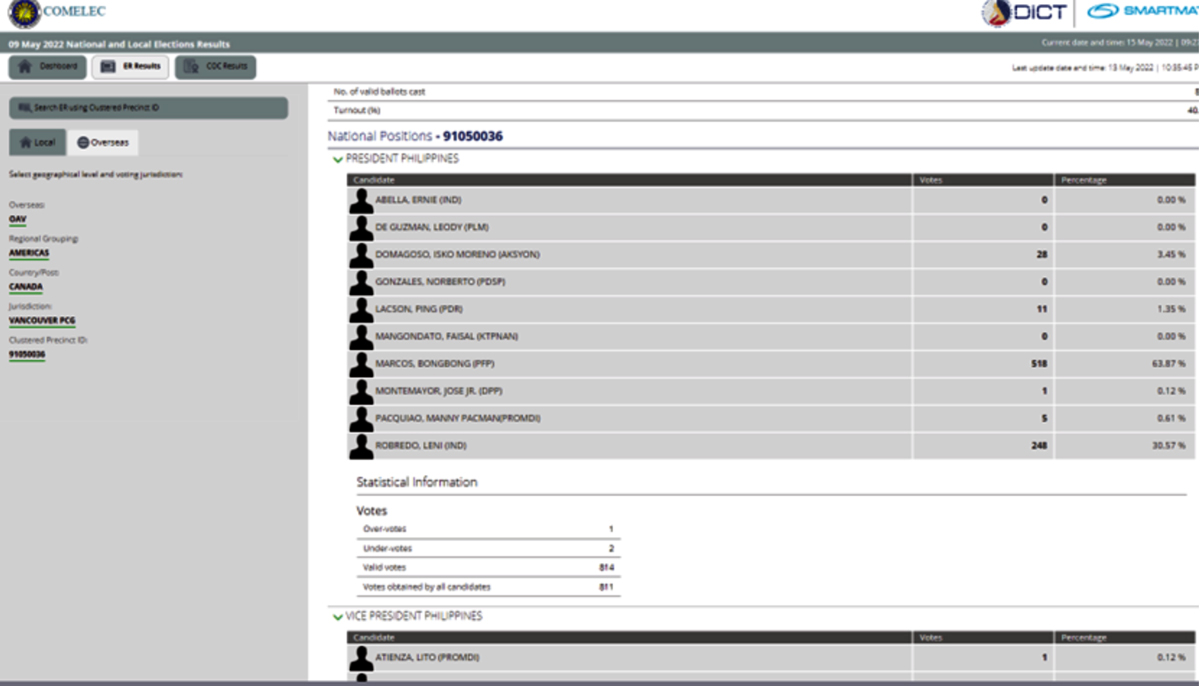 ---