History was made on May 12 as members of the Filipino Canadian community gathered for the launch of the Filipino Workers Network of British Columbia (FWNBC).
Held at the office of the United Food and Commercial Workers (UFCW) in New Westminster, the event saw members of Migrante B.C., local union organizers and B.C. MLA for Vancouver-Kensington Mable Elmore get together to establish the presence of a new advocacy group for Filipino Canadian workers in the province.
Though it takes inspiration from a FWN in Toronto, chairperson Chris Sorio says that the FWNBC stands in contrast as it is wholly spearheaded by the organizers, whereas the Toronto chapter is a product of the Diverse Workers Initiative of the city's Labour Council.
"We're on our own," says Sorio. "We have the ability to become more flexible."
At its core, the FWNBC aims to help Filipino Canadian workers advocate for better workers rights, as well as help educated workers with the benefits and values of labour unions.
"It's two-fold: to be able to promote workers rights among our kababayan, and also to promote the value of the trade labour movement," said Sorio.
The gathering started with an opening keynote from Elmore, who spoke about the significance of unity and togetherness.
Attendees were treated to a showing of The Delano Manongs, a 25-minute documentary written and directed by Marissa Aroy. The documentary depicts the trial and tribulations of Filipino farm workers in Delano, California as they fought for equal and workers' rights in the 1960s. The film, which illustrates the harsh racism that Filipinos faced – and continue to face – abroad, memorably brought some attendees to tears.
Prior to closing statements from members of Migrante B.C., the attendees – who included workers from sectors such as service and hospitality, caregiving, and custodianship – were put together into groups to discuss the challenges and potential solutions they see that FilipinoCanadians encounter today.
For Sorio, the hope moving forward is not limited to expanding to just across the Lower Mainland. "I would like to see a national network," he said.
Despite the organization being in its nascent days, the group has already seen a momentous event just a week after its inception. Members of the FWNBC joined workers at the Hard Rock Casino in Coquitlam on May 20, to show their support at the picket line.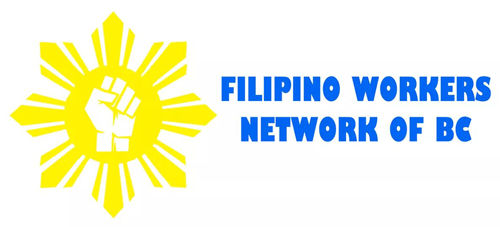 ---