The Census of Canada has been conducted at ten-year intervals since 1851. On the third census, the 1881 census was the first to include the western provinces and territories and the first to show the presence of people from the Philippines. This census did not indicate year of immigration, only residency which could mean just being present in an area when the census was taken.
In the 1881 census, there was a record of nine sailors with Malay as nationality, born in the Pacific Islands, and religion listed as Mohamitan, or Mahomitan. All men, within the same age group (late 20's to early 30's), quartered in a vessel with other crew and were all predominantly single from different countries. The ship was docked in the port of New Westminster, British Columbia.
In 19th century Canada, anyone of the brown race was labelled as Malay in nationality.
Mahomitan or Mohamitan is derived from Mohammedan- then used as an assignation for people of the Muslim faith.
The key census entry for the nine sailors is their country of birth – "Manilla" - indicated in the archival paper record (but replaced with Pacific Islands in the digital entry – we don't know why) – so reasonably the nine Malays were Filipinos. Many Filipinos at this time were professing Catholicism. However, Zamboanga was an international port as early as the late 1700s. Hence, the nine sailors were quite likely recruited in Mindanao where there has been a significant population of Muslim Filipinos.
Their last names: Casinto, Gulliamius, Santilio, Covano, Lambrou, Camgaou, Molangambo, Pablo, and Sotello, do not sound like typical Filipino Muslim surnames. Perhaps the census enumerator who was taking down the names spelled according to one's orthographic familiarity, considering the nine sailors possibly spoke little English. Or the Filipino sailors adopted Euro-sounding names as the vessel they were in, had mostly European and Latin American crew.
None of the nine sailor names were listed in later censuses. In all likelihood, these nine Filipino seamen left Canada with their ship.
1891 Census
The 1891 census did not digitally enter Country of Birth, Place of Birth of Father, and Place of Birth of Mother – the only entries which could disclose ethnic origin. It is a formidable task to track through thousands of names. British Columbia alone had 97,455 results. We are unable to generate any entry which could have been Filipino.
There are archival papers (not digital data) of a Benton Plentore born in "Manillie", whose father and mother were both born in "Manillie". Benton was living in New Westminster in BC, aged 28 and a Catholic. If "Manillie" referred to Manila, Philippines, then Benton could plausibly be Filipino.
The Benton Plentore name is not listed in the earlier 1881 nor in the later 1901 censuses. But could Benton Plentorepossibly be the Benson Prescate, ten years later in the 1901 census?
1901 Census
It is in the 1901 census where we began to encounter the term "Filipino" for ethnic origin and the Philippines for a place of birth. This census also enumerates for the first time Year of Immigration.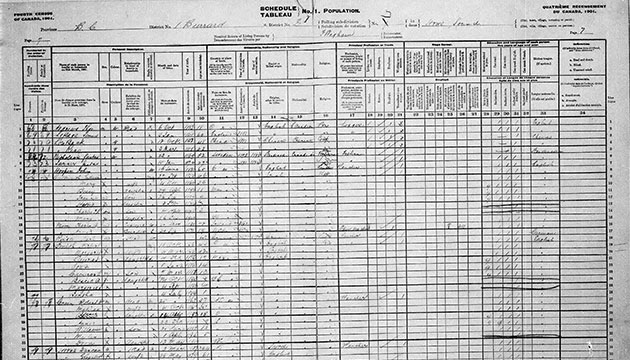 Digitized page of Census of Canada, 1901. Rows 40, 46 and 50 show Filipinos living in Bowen Island at the time of the census. See https://central.bac-lac.gc.ca/.item/?app=Census1901&op=&img&id=z000010131
By 1901, there were 19 people born in the Philippines and whose ethnic origin is Filipino, living in Canada, all residing in British Columbia. There are no records of Filipinos living in other provinces or territories. Those living in British Columbia resided in Bowen Island and the City of Vancouver.
Let us go back to the Bowen Island Historiana article (see Part I), where we heard of Fernando and Mary Toreenya, William Matilde, Antoni Bentorre, Castro Ricardo, William (Benson) Flores, BastinoPasento, John Delmond, and Jose Garcia who were all settlers in Bowen Island in the latter part of the 1800s until the turn of the century.

To be naturalized in the Dominion of Canada then means one would be granted the rights of someone born within the British Empire, but not be granted British citizenship. For local applications, one was considered a Canadian.
No data can be found for BastinoPasento and Jose Garcia in any of the censuses earlier and later than 1901. Jose Garcia did appear in both the Henderson BC Gazetteer and BC Directory starting in 1899, but only his name and livelihood as a fisherman were listed.
For some reason, Benson Flores does not appear in the 1901 census or the censuses earlier but shows up 10 years later in the 1911 census. Perhaps he was not in his residence when the census enumerator came knocking on doors.
There was also a Benson Prescate living in Bowen Island in 1901, 35 years old, but no year of birth, immigrated in 1876, and naturalized in 1898. Too young to be Benson Flores, and three years shy of what should be the age of Benton Plentore in 1901, that is 38 years old. Perhaps?
The other Filipinos listed in the 1901 census immigrated around or much later than the Bowen Island group, but none earlier.
How did they get to Canada and why Bowen Island or the City of Vancouver to begin with? The nine Malay sailors in 1881 give us a hint.
Possibly they were crew members of a ship that traveled across the Pacific and called on the bustling timber port of Vancouver. Since immigration rules were more lax then, these Filipinos might have decided to settle in Canada.
Why Bowen Island for some? Bowen Island was attractive to immigrants because there was the opportunity to pre-empt land, farm, raise livestock or be employed in logging. One can live off the land and fish from the water.
Combining all sources, in the 1890s, there were 11 Filipinos living in Vancouver, one near Mission, and 10 in Bowen Island.
Is this it? Are these the Pioneer Filipino Canadians on record?
Next Issue: Part IV – We find out who the First Filipino is on record who immigrated to Canada. – We find out who the First Filipino is on record who immigrated to Canada.
---