At the centre of Canada's celebration of its 150th anniversary of its confederation is the powerfully symbolic, multi-colored maple leaf logo designed by the young Canadian Filipino Ariana Mari Cuvin.
Cuvin's creation won the 2015 Canada Heritage design contest inviting students to create a logo for Canada's landmark anniversary. The former Global Business and Digital Arts major at the University of Waterloo in Ontario won $5,000 for her work.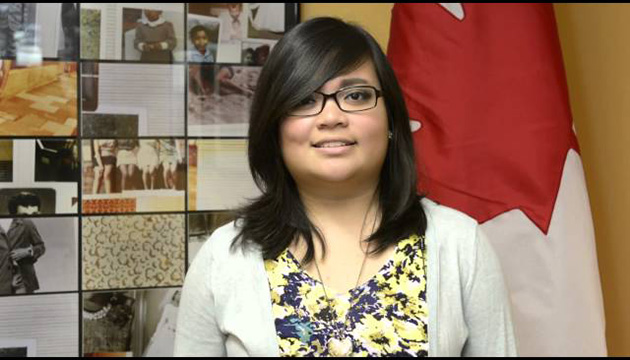 Now a part of Canadian history, Cuvin's design can be seen in posters, t-shirts, leaflets, caps, flags, mugs, refrigerator magnets, even commemorative coins. The logo is stamped on all government products related to Canada's 150th birthday.
Though unavailable for comment, Cuvin had said in aYouTube interview, "When I found out about the contest, I was very excited because it was an opportunity that I wouldn't otherwise get as a student and I thought that I might as well give it a shot. When I started thinking about the logo, I knew I wanted to create something simple, something that would be easily recognizable and I wanted to leave enough room so that whoever was building the visual identity for Canada 150 would have enough room to play and create their own design.
"The four diamonds that are attached to the stem in the maple leaf are meant to represent the four provinces that were part of the Confederation in 1867. As we approach the 150th Anniversary of Confederation, I'm excited to see what the future holds for Canada and what the next chapter is going to be like."
Shelly Glover, former Minister of Canadian Heritage and Official Languages, predicts:"The logo will become a unifying symbol of the Canada 150 movement, a lasting reminder of our proudest moments along the journey."
Cuvin's family immigrated from Hong Kong in 2002, when she was seven years old. Reports show she graduated from Father John Redmond Catholic Secondary School and Regional Arts Centre in Toronto, and was a recipient of the Filipino Centre of Toronto outstanding student award.
This distinction is given to Filipino-Canadian students who have demonstrated academic excellence and have been active volunteers in their community.
In May 2015, during former President Benigno Aquino's state visit, then Prime Minister Stephen Harper cited Cuvin as an example of Filipino success in Canada.
During the Asian Heritage Month, Canadian Filipino Senator Tobias Enverga also gave a glowing tribute to Cuvin. "When it comes to other contributions by Asian Canadians, I can proudly let you know that the Canada 150 logo that we have seen in so many places this year was designed by a Filipino-Canadian." Enverga said Cuvin's feat makes him "exceptionally proud" to belong the Filipino immigrant community.
In addition to her passion for translating ideas through graphics, Cuvin also enjoys singing. She has been singing in church and is currently an Assistant Musical Director of Waterloo's "Unaccompanied Minors," an a cappella group.
The 21-year-old digital designer's overall quest, according to her profile, "is to help make the digital world a better place, one sketch, vector, and/or wireframe, at a time."
---
---
Canadian Filipino Net is an independent, non-profit digital magazine produced by volunteer writers, editors and web masters. You can subscribe for free. To keep us going, we need your help. Donations of as little as $5 or $10 will go a long way so we can continuously write and publish stories about Canadian Filipinos. Just click on a donate button and proceed either through PayPal, Debit or Credit Card. You will receive a receipt at the end of the transaction. Thank you for your support.