The Filipino Catholic Ministry of the archdiocese of Vancouver held a day-long consultation meeting on April 28 at St. Matthew church in Surrey with heads/leaders of Filipino religious organizations and representatives of various parishes in the archdiocese. Its purpose was to begin the process of developing a comprehensive Pastoral Plan to fully integrate and encourage the full participation of Filipinos as active members and leaders in their respective parishes.
The Filipino Ministry was established in 2017 as an acknowledgment of the significant growth and contributions of Filipinos in the Archdiocese of Vancouver. According to Deacon Greg Barcelon who heads the Ministry, the development of the comprehensive Pastoral Plan would consist of three stages:
1) Consultation at large, which was the plenary meeting on April 28th ;
2) Consultation with individual pastors especially in parishes with a significant number of Filipino parishioners ;
3) Full discussion of planning results with the ministry's advisory council.
Through this consultation meeting, the Filipino Ministry would compile information and feedback from the various Filipino communities in the archdiocese to identify priorities, service opportunities, pastoral needs and ways to address them.
Based on information gathered at this consultation, it would develop its plan to create a network of Filipinos involved in their parishes to improve their coordination and facilitate their greater involvement in parish life and evangelization efforts of the archdiocese, to help pastors and priests better understand and work with their Filipino parishioners, and to host a periodic large-scale public event to celebrate the Filipino contribution to the archdiocese such as the visit of Cardinal Tagle in March.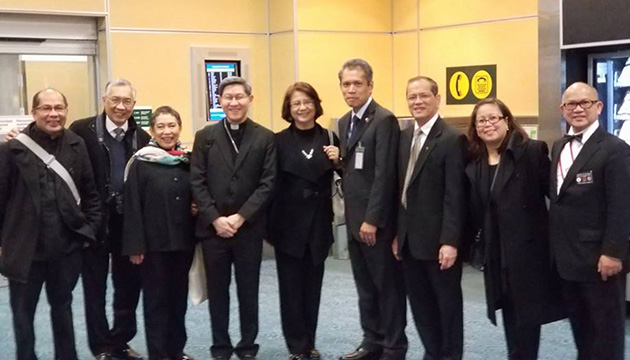 Welcome party for Cardinal Antonio Luis Tagle last March 19, 2018 at the Vancouver International Airport. In the photo are (L-R) Rev. Francis Galvan, OSA, Wilfred Victoria, Evelyn Victoria, Cardinal Tagle, Evelyn Barcelon, Philippine Consul General Neil Frank Ferrer, Deacon Greg Barcelon, Vice Consul Ma. Charmaine Guevara, and Angelo Siglos.



In its first year of operation, the ministry achieved several major projects such as the launch of the "Mamuno Tulad ni Hesus" (Lead like Jesus) Leadership Training Program, the convalidation of marriages in a mass celebrated by Archbishop Miller in 2017, and the organization of the visit of Cardinal Luis Antonio Tagle in Vancouver on March 19th.
The consultation meeting started with a Mass officiated by Archbishop Michael J. Miller. There were plenary sessions and small group discussions throughout the day. Results of the consultation meeting would be the basis for projects and activities of the Filipino Ministry to enhance the participation of Filipinos in parish life.

For more information about the Filipino Ministry, please visit http://rcav.org/filipinoministry/
---