Forty Filipino restaurants from seven provinces across Canada are participating in Canada's first Filipino Restaurant Month in April. The celebration of Filipino cuisine begins on April 1 until April 30, 2022.
Filipino restaurants in the provinces of Alberta, British Columbia, Manitoba, Ontario, Nova Scotia, Quebec and Saskatchewan are featured in this joint project of the Philippine Department of Tourism in San Francisco, Philippine Embassy in Ottawa and the Philippine Consulates General in Calgary, Toronto and Vancouver. Participating restaurants will be offering prix fixe menus for its customers this April.
At the launch of the project on March 21, Philippine Consul General to Calgary Zaldy Patron noted, "It is our hope that the Filipino Restaurant Month will be the start of a movement to mainstream Filipino cuisine in Canada." Philippine Tourism Promotions Board Chief Operating Officer Maria Anthonette Velasco-Allones hopes that through the Filipino food experience in Canada, mainstream Canadians will be "lured" to visit the Philippines to experience the authentic cuisine and fun of our people."
Local prizes of $25 to $50 vouchers and grocery gift cards will be given away by the participating restaurants, while the national prizes include domestic airfare within the Philippines, hotel or resort accommodations, and a day tour for two. For a chance to win, diners must visit participating restaurants and purchase from the prix fixe menu to enter the national and local raffles.
Filipino Restaurant Month is sponsored by Philippine Airlines, Discovery Hospitality, Astoria Boracay, Food Holidays, Seafood City, and Chroma Hospitality.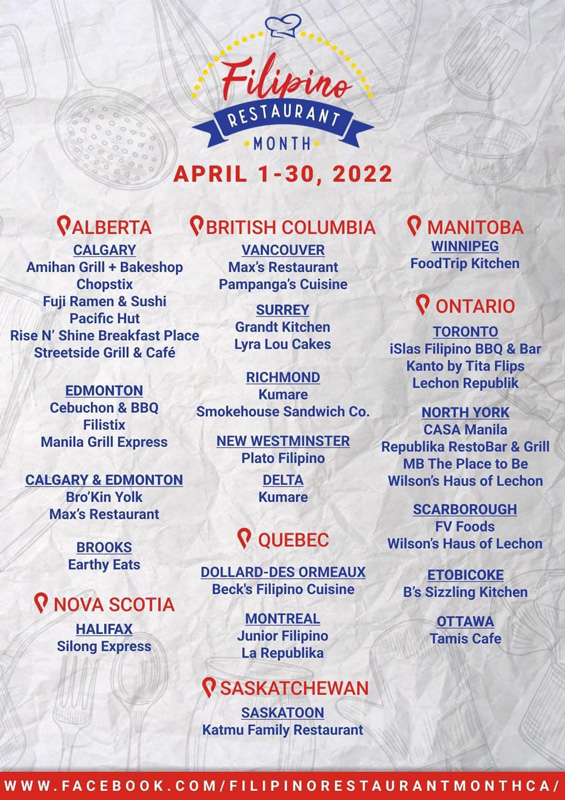 "Through the Filipino Restaurant Month in Canada, we aim to increase awareness of and appreciation for the rich, flavorful, and unique Filipino cuisines," stated Philippine Ambassador to Canada Rodolfo D. Robles. "By introducing our Canadian friends to Filipino cuisines, we hope that more of them will also be encouraged to visit the Philippines to experience the warmth and hospitality of the Filipinos and enjoy the natural beauty of our country."
In his message, Philippine Secretary of Foreign Affairs Teodoro Locsin Jr. said, "The Filipino Restaurant Month is not only a way for us to showcase the distinct and traditional flavors of our cuisine originating from some of the Philippines' 7,641 islands but also to promote our country as a major food destination. We hope our food will inspire people to plan a trip to our beautiful country."
For a list of participating restaurants, go to www.facebook.com/filipinorestaurantmonthca/
---