"Dance is the hidden language of the soul." —Martha Graham
Creative expression is a gift, and each of us can choose a medium of expression. For Kababayang Pilipino (KP), it is dance and music — and recently they have enthralled audiences in a two-evening event at the Vancouver Playhouse Theatre with their repertoire of vibrant Philippine folks dances, dramatic tableau, and awe inspiring performance fitting for their silver anniversary season.
Aptly entitled 'Tatak,' which is the Filipino word for stamp, or brand, KP showcased their signature quality performances with five suites featuring brand new, original works created by KP's choreographers and musicians.
Indeed, reaching twenty-five years is an admirable feat, with the dance company having accomplished milestones not only in Vancouver, but also staging performances across Canada, USA, Belgium, Italy, and Portugal.
"With the help of over 250 performing artists and volunteers over the last 25 years, we have built this company to what it is today. Some of those have come and gone, but our mission to promote and educate the world about our beautiful culture has stayed alive," said Veejay Correa, KP's Chairperson and Executive Producer.
Rooted and inspired by the traditional Filipino folk dance movement, the pieces in 'Tatak' were the expression of the connection that the artist has between the past and the present, with a gaze into the future.
Daring, bold and unapologetic, the new works explore what it means to be a folk dance practitioner in a contemporary world, as a Filipino artist not living in their homeland.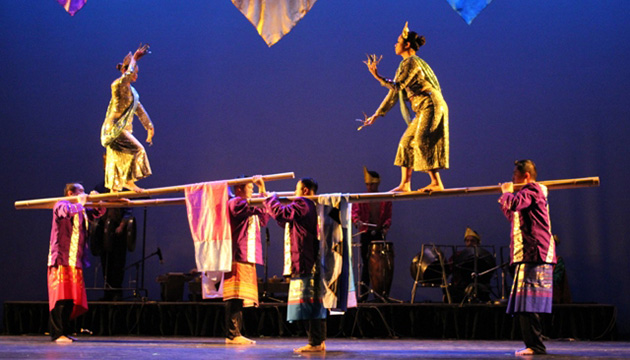 For Artistic Director Randy Romero, being with KP has been quite a journey of self-discovery and identity.
"Throughout most of my life, my beloved Filipino folk dances have been with me. From being taught 'Tiklos' by my mother at a very young age to performing at Expo 86 in Vancouver, to being part of a group of university students at UBC that was on a mission to unearth what it meant to be both Filipino and Canadian, my cultural heritage has been a thread," he said in his welcome message.
"As I reflect on the last 25 years, I realize that I have been using folk dance as a means to both uncover and express my true self. The best performance is when the artist is most vulnerable and allows us to see their soul."
This approach was evident in some performances as they are intentionally raw, thought provoking, and beyond the ordinary.
While KP showcased the folk dance classics that have always been there — including the heart stopping Kalinga courtship dance Salidsid, and the playful Sayaw sa Bangko, they also gave plenty of room for contemporary dance pieces.
These included thought provoking, heart tugging world premiere performances entitled Madeleine and Sonata d'été — where the artists attempt to answer the question of "What's next?".
With Tatak's well thought-out pieces, elaborate lighting and costume design, collaborative choreography and music, the show brought us home to our country's majestic mountains, islands, and sceneries. It was also a journey into memory; familiar dances reminded us of our childhood and life before modern technology. But most importantly, Tatak was a celebration of our rich, diverse, and unique culture and how this continues to shape who we are as Filipinos.
Since 1993, KP has been wowing its audiences with its dynamic and dramatic traditional Filipino dance interpretations complemented by its authentic and brilliant costuming and fiery live musical accompaniment.
Under the continuing direction of Romero, Kababayang Pilipino continues to push the boundaries - taking what is essentially folk, then making it contemporary and relevant.
Romero added, "It is (usually) easier to not communicate what we really feel inside or to say what we think others want to hear. I firmly believe that 'Tatak' is who we are as artists today, 25 years later. It's not a guarantee, but it's my feeling that you will like what we have to say."
After a strong anniversary performance, it may be an understatement to say that truly KP had solidified their 'Tatak' in the community. No doubt that with 25 solid years, they truly are one of the most formidable premier Philippine folk dance companies in Canada.
CLICK HERE TO VIEW MORE PHOTOS
---
---