Filipinos in Canada have until September 30, 2021 to register for the Philippine general election to be held May 9, 2022. The 2022 elections will determine the election of president, vice president, senators and party-list representatives.
Filipino citizens and those holding dual citizenship who have not previously registered, are not disqualified by law and are at least 18 years of age on 09 May 2022 may contact the Philippine Embassy in Ottawa and Philippine consulates general in Calgary, Toronto and Vancouver.
Citizens currently in the Philippines but will not be in the Philippines to vote for the one-month period before the 2022 elections must also register through the Commission on Elections' Office for Overseas Voting (OFOV). The OFOV may be contacted via their Facebook page https://www.facebook.com/overseasvotingph/, by email at This email address is being protected from spambots. You need JavaScript enabled to view it. or by phone at (02) 8522-2251.
Applicants should have a photocopy of a valid Philippine passport or, if a dual citizen, a copy of their oath of allegiance or proof of Philippine citizenship from the Bureau of Immigration or, if a seafarer, a copy of their seaman's book. Due to COVID-19 restrictions in place in various provincial jurisdictions and the requirement to appear in person, those registering must contact the embassy, consulate or the OFOV to make an appointment.
Previously registered voters who failed to vote in the last two general elections in the 2016 and 2019 local and general elections have been removed from the list of overseas voters.
Also until September 30, 2021, other applications for change of name, correction of entries, reactivation, change of signature or other contact information will be accepted.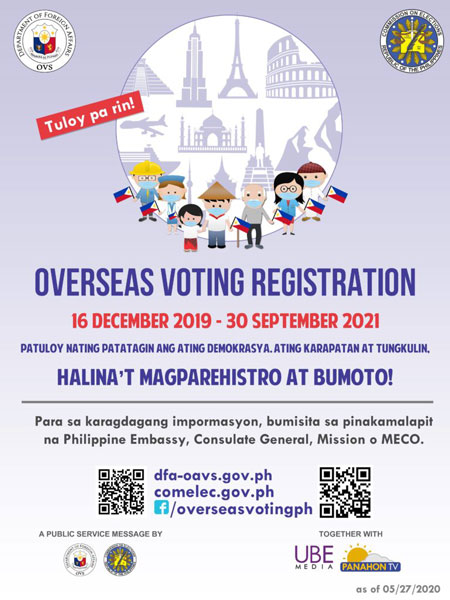 ---