June 16, 2023 - Another Dimasalang III artist who honed his craft by attending private art lessons from SYM Mendoza, the well-known maestro of Filipino artists in the Philippines and in Canada, is Edgardo Lantin who has made his mark in the world of international artists. He was one of the featured artists in the October / November 2003 issue of the prestigious International Artist Magazine.
His first important commission was a portrait of Former Philippine President Corazon Aquino in 1989 which is now displayed at the Malacanang Palace Museum. Other distinguished personalities he painted include the Philanthropist Whitford J. VanDusen whose portrait hangs at the foyer of the VanDusen Botanical Garden in Vancouver; the Inventor of the first automatic tourniquet system for surgery Dr. James A. McEwen; well-respected physician, businessman and philanthropist, Dr. Donald B. Rix. whose portrait is displayed at the British Columbia Cancer Research Centre Library; and of prominent developer and philanthropist, Mr. Milan Ilich.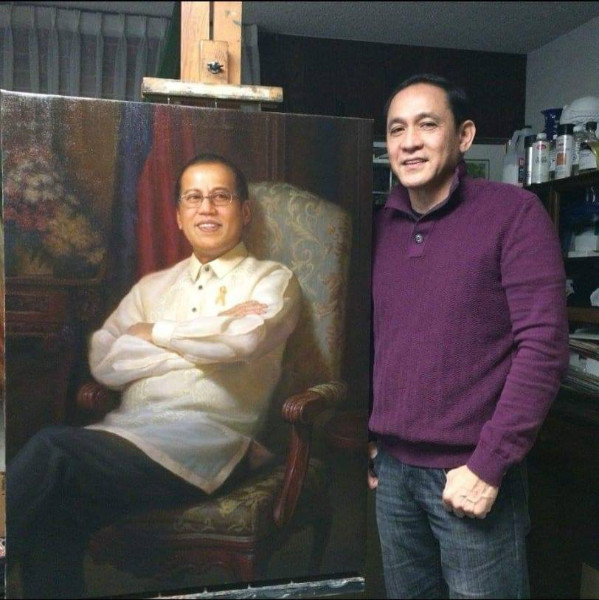 Ed Lantin with his portrait of the 15th President of the Philippines Benigno Aquino III (June 30, 2010 – June 30, 2016). He painted the 32" x 42"portrait in 2017. It now hangs alongside official portraits of other Philippine presidents at the Malacañang reception hall.
Lantin's continued dedication, discipline, and attention to minute details contribute to the excellence of his artwork. This is recognized internationally through the numerous awards presented to him. He is most proud of the prestigious Grand Prize Winner award he received in 2004, for his exceptional rendition of the "Vegetable Vendor" at the Federation of Canadian Artists open, internationally in juried 2004, Painting on the Edge. His work was chosen from among 777 entries, for the top prize.
He shows in each portrait that he paints his own portrayal of his understanding and appreciation of his subject. "Realism is a quality of all great portraits. A portrait tells us the truth and gives us a vivid portrayal of a real person at a specific moment in time."
Lantin believes that a portrait goes beyond the outward appearance and captures the subject's essential presence brought about by a spiritual bonding between the artist and his subject to produce an exquisite work of art. He absorbs as much detail about his subject; personality traits, unique mannerisms, feelings and emotions, then transforms them into a multi-dimensional figure boasting of life and drama.
"This is when the artist can truly articulate his understanding and appreciation of his subject, as the subject bares his or her self to the artist."
His commitment to each portrait he paints is revealed in the elegance and grace of his finished work. Lantin's sensitive values are expressed in the care he gives to each piece, guiding every stroke of his brush with his heart and soul.
Born in the Philippines in 1953, Lantin showed at a very young age his artistic inclination. He graduated with a Bachelor of Science degree in Fine Arts in 1976 at the University of Santo Tomas. He worked as a graphic artist upon migrating to Canada in 1981. He pursued his passion for portraiture by attending private art classes with an accomplished and renowned Filipino artist, Sym Mendoza, a well-known mentor to Filipino artists. In 1986, he studied at the Art Student League in New York on a full year scholarship and also took a sculptural anatomy class at the New York Academy of Art. He lives in Vancouver with his family.
---
---