(This is Part 9 of Dr. Rey Pagtakhan's column, Medisina at Politika, on Covid-19.)
Canada confirms today its share of 90,934 (1.52%) of the world's 5.99 million total COVID-19 cases and 7,065 deceased (1.93%) of the 366,875 deaths worldwide. Of the total deceased in Canada, much more than half of them were from long-term care homes and residential care facilities.
Tragedy of Deaths in Long-Term Care Homes
The image projected above of the Madonna Care Community, a long-term care facility located in the National Capital Region, may well embody the struggles and fears experienced by residents and providers in long-term care homes (the term is used here to encompass nursing homes and residential care facilities, also known as CHSLDs in Quebec) across Canada as the eye of the COVID-19 pandemic storm first landed at The Lynn Valley Care Centre in Lynn Valley, North Vancouver, British Columbia in the west before travelling east.
The Lynn Valley Care Centre
The circumstances at The Lynn Valley Care Centre tell part of this issue's sub-theme, Tragedy of Deaths in Long-Term Care Homes (and the accompanying special Commentary). It was the morning of Friday March 6 when the Director of the Centre confirmed the rumor of the day before – "that a co-worker nurse had earlier tested positive for COVID-19" – to the anxious, "shocked and angered" outgoing night shift, nearly "all of whom are middle-aged Filipina Canadian." "Why didn't you let us know?" was the spontaneous sentiment of concern raised by this group of staff at the 200-bed facility, as reported then by Jonathan Hayward of The Canadian Press and the Globe and Mail. A day later on March 7, British Columbia's Provincial Health Officer Dr. Bonnie Henry confirmed the outbreak and indicated that two residents and one health care provider had tested positive for the virus. It would be announced the following day on March 8 that one of the residents had died, becoming the first person in Canada to succumb to COVID-19 – a preventable death I might add.
"This is one of the scenarios that we have been, of course, most concerned about," reportedly said Dr. Henry at the media scrum. The subsequent two weeks documented 18 providers of care had been infected and seven elderly residents had died. There lies the first setting for the tragedy of deaths as a consequence of COVID-19.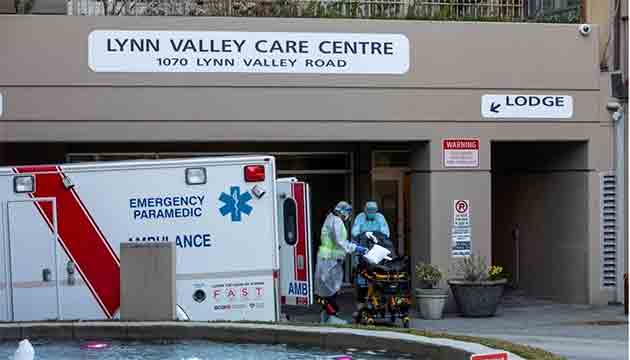 Paramedics wearing full body protective equipment clean a stretcher after responding to a call at the Lynn Valley Care Centre in North Vancouver, British Columbia on Friday, March 20, 2020. (Ben Nelms/CBC).
Tragedy of COVID-19 Deaths in Ontario and Quebec
Chris Fox of CTV News reported on May 13 that "there have been 249 outbreaks at Ontario's 626 long-term care homes and the sector now accounts for more than three quarters of all COVID-19 deaths."
Verity Stevenson and Benjamin Shingler of CBC News posted early on that "more than 1,000 of the 1,340 Quebecers who have died from COVID-19 were seniors in care."
Indeed, both Ontario's long-term care homes and Quebec's CHSLDs – a string of them – experienced such overwhelming numbers of sickened and dying patients that both provinces had to request the assistance of the Canadian Armed Forces.
Canadian Forces personnel return from their break at the Vigi Mont-Royal CHSLD in the Town of Mount Royal on Tuesday. (Ryan Remiorz/The Canadian Press).
In explaining "how B.C. controlled COVID-19 while Ontario, Quebec face disaster," Kathleen Harris and Ashley Burke of CBC News on May 28th made the following observations:
There have been 111 deaths in long-term care homes in B.C., compared to more than 2,500 in Quebec and 1,500 in Ontario;
B. C. took swift, coordinated and decisive actions… providing adequate protective gear and financially supporting frontline staff to restrict their movement between sites;
They stopped extra people from coming into the homes;
B. C. facilities are modern infrastructure with fewer four-bed units;
Quoted their resource expert Dr. Pat Armstrong who said "Canada needs stronger inspection systems with tough enforcement measures to strengthen the long-term care system nationwide;"
B. C. government had more time to warn international travellers against actions that could bring the virus home with them;
B. C. government had to take over three care homes because residents were not getting the care they need; and
Underlined the findings of the Canadian Armed Forces, of whom more than 1,600 members have been deployed to assist in the crisis in Ontario and Quebec. These observations describe some of conditions and events as seen in 5 (observations a to c) and 25 home care facilities (observations d to f) in the respective provinces:
incidents of neglect, aggressive treatment toward residents;
cases of residents being improperly fed, left in soiled clothing or going unbathed for weeks;
Insect infestation and the smell of rotting food.
less disturbing vis-Ã -vis a to c;
improper use of protective equipment; and
staffing shortages.

Premiers' and Prime Minister's Response as Reported
"What I am feeling, what we all are feeling is little in comparison to the hardship that these residents and their families have had to endure., " said Ontario Premier Doug Ford upon reading the military report on the province' situation, and went on to promise "justice for these residents and their families."
Premier Legault of Quebec said he wasn't especially surprised by the findings. He expressed great appreciation for the military's help: "Thank you very much, we are so happy to have you." He has asked that "1,000 members of the Canadian Armed Forces remain in Quebec until Sept. 15 to continue helping out."
The report is "deeply disturbing," said Prime Minister Justin Trudeau. Added Deputy Prime Minister Chrystia Freeland who called it "truly heart-wrenching." "Several of the report's findings, such as the understaffing, are among the reasons why Premier Legault asked for help from the Armed Forces a month and a half ago," continued the Prime Minister. He added that "he would further address the situation in Canada's senior's residences and long-term care facilities during his weekly call with Canada's premiers. I will once again offer our government's support as they try to get the situation under control."
"As I've said many times, we need to do a better job of caring for seniors. They raised us, they built this country."
---