For Therese Estacion, her first book of poetry is a journey for "home".
Phantompains (Book*hug Press) was due out March 31, 2021, and in advance of the release, the Toronto public elementary school teacher chatted with All Lit Up.
All Lit Up is an online book retail site managed by the Literary Press Group, a nonprofit representing 58 independent literary publishers in Canada.
Estacion came to Canada when she was 10 years old.
In 2016, she suffered a rare infection, and as a result, lost both her legs below the knees, several fingers, and reproductive organs.
Estacion told All Lit Up that the book features three types of poems: cautionary tales, pieces about grief and mourning, and those that attempt to piece together her memories after she fell ill.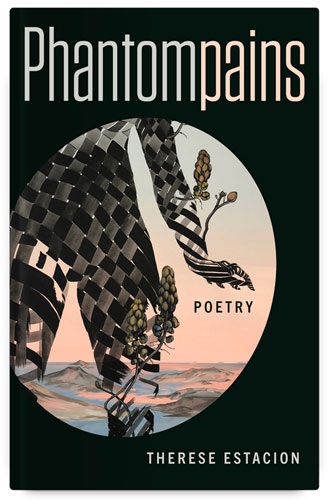 Therese Estacion retraces her journey in her first book of poetry.
"The overall theme, though, would probably be 'home'," Estacion said.
"I didn't know this at the time, but I was writing about how far away I was from home—from my former able body, my childhood in the Philippines, and my repressed memories and feelings. Through the collection, I try to retrace my steps back to the beginning or source somehow."
Estacion also said that Phantompains has a "double meaning".
"It literally refers to the pain amputees feel because our brains sometimes forget that our limbs are no longer there (ie. feeling an ankle sprain sans ankle), or it can refer to a shock in our nerves, it may be similar to what you feel at the dentist when the anesthesia is wearing off.
"It also refers to the invisible pain that people, or I, carry. Like melancholy or rage, or a sense of feeling rejected or at a loss. So perhaps it refers to psychic pain," she said.
Estacion's online profile indicates that she has been working as an educator with the Dufferin-Peel Catholic District School Board since 2008.
Her education credentials include a master's degree from the Ontario Institute for Studies in Education of the University of Toronto.
Estacion is currently studying to become a psychotherapist.
Book*hug Press's promotional material for Phantompains notes that Estacion "incorporates some Visayan language into her work".
She tells of "stories of mermen, gnomes, and ogres that haunt childhood stories of the Philippines and, then, imaginings in her hospital room, where she spent months recovering after her operations".
Phantompains demonstrates the "power of our imaginations to provide catharsis, preserve memory, rebel and even to find self-love".
Details: https://bookhugpress.ca/shop/books/forthcoming/phantompains-by-therese-estacion/
---