My name is Joy and I came to Canada last October 27, 2015. Moving from the Philippines, we had so many obstacles to go through.
For me, it was a life-changing experience. Before I went to Canada, I was a princess-like child. I could ask my dad or my mom for anything and they would most probably give it to me; same goes for my siblings. I was a busy person, mostly in school activities and in my sport. We just enjoyed our life, leaving everything to someone who would clean our house, wash our laundry, cook for us, and drive for us wherever we wanted to go.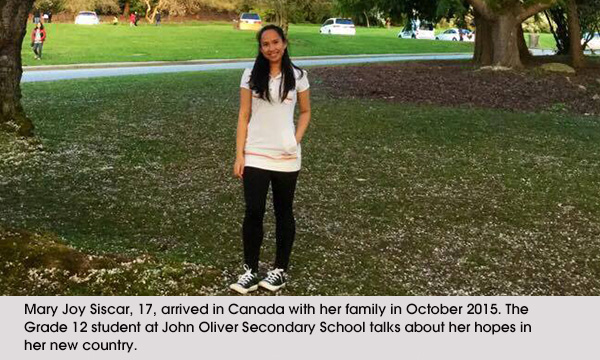 It may be surprising, but my sport is practical shooting wherein I use real guns and I have a driver, and a people who clean my magazine, reload my bullets, and take videos and photos of me. I got to compete every weekend, and sometimes practice every day, going out of town, travelling and competing in different parts of Philippines.
But, nothing is permanent. My life changed, every single part of it. My mom told us we would be going to Canada for a better life and a better future. We love her and it would be great for us to be complete again after the never-ending challenges without her. We believed her and her wishes for us, but we have this mixed happiness and sadness inside of us.
At first, it was like a dream come true. Canada looks like another world, to see people with different nationalities, and all using English language. We saw the bright side, but it hit me hard and I couldn't feel "at home" - it felt like everyone was looking at us because we're so foreign (I know this was just my imagination).
In life, we never run out of challenges. When I first came, I struggled to be confident to use English, even though I can understand, speak, and write. I was also able to experience cleaning, which I've never done in Philippines. I got to clean other houses - their washroom, toilet, bedroom, kitchen, and every part of the house. I felt like everything is gone now, and it is hard for me to adjust.
I also need to study hard and do my homework to get a scholarship. I have to put extra effort in class for school credits, at the same time, volunteer for volunteer hours, and do the house chores. I have to do that, all at once.
Tip: Hard work and a good heart is the key. I can say that with all those, I am doing great. I was able to become a Principal Lister. I have a good relationship with everyone. I am able to help my mom, and our house is clean. It's not always easy, but I put my heart to everything I do, and that makes it easy.
Canada is a country wherein everything is expensive - houses, rent, food, and tuition, that is what I don't like here. In contrary, Canada is such a great country surrounded with great people. There's peace, a good relationship between countries, and a bright future waiting for you. Of course you need to work for it, but it is here, waiting for you to overcome the obstacle in your life, and for you to leap high and reach the sky.
I've set aside every challenge that is going on. I started to focus on what's coming next, and here I am, very involved in my community and school. In Philippines, my dreams already have a strong foundation with good materials. But here, I needed to restart building everything again, which is fun. I got to see things in a different angle, and in a different perspective of life. I got to open doors that are closed, and I stepped out of my comfort zone.
Canada is the answer to my dream. In the near future, I can see myself with the whole family, just contented with life, and being happy because we became one as a family again, having a house. It's not a mansion, but it is full of dreams, smile, laughter, and success.
At first, Canada doesn't feel like home, because I have this mindset that "home is where your family is". Yes, I am with my family, but it is just us, six people that are blood related, and we're one family. But as time passes by, I've come to realize that being a family doesn't mean that you need to be blood related, it means the relationship you have with people. Each day, there's more and more people that become part of my life as a family, like my friends, my church mates, my schoolmates, and of course I wouldn't forgot KAMP [Kababayan Academic Mentorship Program] that made me feel more like I'm home.
For any youth that is coming to Canada, I am encouraging you to be as strong as possible, and don't be scared, because "life without a problem is just like school without a lesson". We need those problems for us to learn, and for us to be equipped in future. Also, think about the sacrifices that your parents have gone through just to make sure that you'll have a better life. I do believe that life is full of obstacles, but it is bearable because you are surrounded with the people who have your back.
My community supports me by being there because they are letting me engage in activities, to meet new people, and to have fun, as well. Most of all, this community is building a relationship with us which is more important than anything else, because they're like family that will always support you. Be involved in community or in various programs. Open those doors that are closed, and step out of your comfort zone. I am the driver of my car, and this is the road of my life.
By Mary Joy Siscar
---
I want to make my parents proud
Who are you?
Thea Melodias
When did you come to Canada?
April of 2013
What was your life like in the Philippines before you came to Canada?
I lived in a household of five including my two siblings, and both of my parents with an average lifestyle. This meant we could eat three meals a day, go to school regularly, with adequate supplies for school, and at home. My father came to Canada as a skilled worker.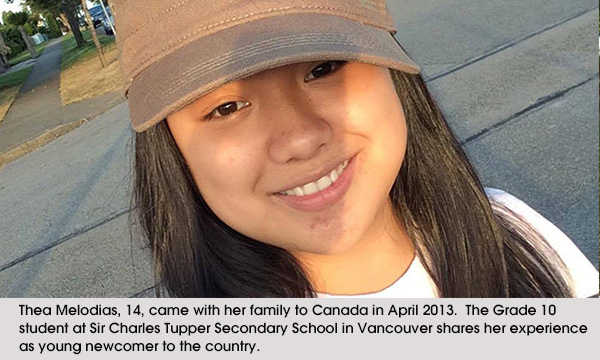 What was it like coming to Canada?
At first I was ecstatic, especially, since it was my first international flight, and I was expecting to see snow during the day I first got here. But, since it was the beginning of spring, I was welcomed with a cold April rain at 7:00 in the evening.
Was it like you imagined?
Canada was exactly what I imagined it to be, with tall sky scrapers, busy streets, and highways, and bright lights at night.
Were you surprised by anything?
Of course, I was culture shocked, during the first week, and up until today I'm still adjusting to the cultural differences, especially since Canada is so diverse.
What were the challenges when you first came, and what are some of the challenges you still face today?
The challenges that I feel are very common to immigrants. Homesickness is an example, and it still is. Of course adjusting and adapting to an entirely new environment, it was really a challenge for me, since I grew up in a small sitio from a small island, to a big city in an entirely new country.
What do you like best about Canada?
What I like about Canada is its cultural diversity, where people from anywhere have the same rights as its citizens.
What does your future hold here?
I'm certain that my future holds something bright, along with the success that I have to work hard to get. Since my parents worked hard to get me and my siblings to where we are now, I will do my very best in my studies and future jobs to attain the future that my parents, and myself envision. I want to make my parents proud.
What are your dreams for the future?
To work so that I give my future children a comfortable and simple life, retire at the age where my children can fend off for themselves, travel, go back to the Philippines. There I would like to buy a land by the sea, plant fruit bearing trees, and a variety of vegetables, take care of chickens, pigs, cows, and a dog, live in a simple house with my future husband, and spend the remaining time of my life, watching my future grandchildren play in the yard.
Does Canada feel like home why or why not?
My home is where my family is, but, honestly, no, Philippines will always be my home. No country, or nation, no matter how wealthy, politically or economically influential can ever replace it.
If you could give an advice to a youth like you in the Philippines about to come to Canada, what would you say?
I would say, always keep on going, don't give up, but, don't forget where you came from.
---