Vino Cuenca did not have formal training in music but there was one thing he was sure of; he was going to pursue his passion for music. He picked up beatboxing as a hobby, eventually landing as the reigning Canadian Beatbox Champion.
"It (beatboxing) was something I was able to easily pick up despite my lack of any formal musical training," Cuenca shared with Canadian Filipino Net (CFNet). "Pursuing it as a hobby inevitably led to getting more involved in the beatboxing community, which eventually got me to start competing." He credits beatboxing giants Japanese American Gene Shinozaki and Canadian Elisii who was the first national Canadian Beatbox Champion.
Beatboxing, to the uninitiated, is a form of vocal percussion mostly involving the art of mimicking the sound of drums and other sound effects, using one's mouth, lips, tongue, and voice. This musical form also known as b-boxing has roots in hip-hop which originated in the '80s.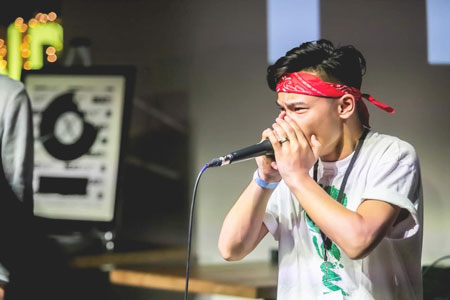 Vino Cuenca beat out 15 other competitors to win the 2019 Canadian Beatbox Championships.
As a nine-year-old, Cuenca was introduced to beatboxing by his father Jay who showed him a number of beatboxing videos. Young Cuenca was hooked and there was no looking back from then on. He started to seriously hone his skills, joined a capella groups and in 2016, tested the waters at Beatbox Canada's national competition. He joined yearly since then and in 2019 beat 15 other solo performers.
Twenty-three-year-old Cuenca is the son of Jay and Dulce Cuenca who are both lawyers. Both parents earned their law degrees in Canada through the University of British Columbia (UBC) and in the Philippines through the Ateneo University School of Law.
Cuenca himself looks to pursue a similar career in law, currently pursuing a sociology program at UBC.
Cuenca, with fellow Canadian beatboxer CiMaX in team Wookiez, also won 2019 Great North Tag Team Beatbox Championship. He led the establishment of West Coast Groove, which hosted the first Vancouver Beatbox Competition in 2020 and the first of its kind in Western Canada.
Cuenca recently co-hosted the Beatbox Education Program with beatbox champions Elisii and Villain in March and April this year. Cuenca tells CFNet, "It was a five-weeklong masterclass course in constructing beatbox routines and overall beatbox composition techniques. This first iteration of the program included eight students that we all taught simultaneously, complete with tailored learning expectations and comprehensive notes for each student."
In February 2020, Cuenca competed alongside UBC's Eh? Capella group at the Varsity Vocals International Championship of Collegiate A Cappella (ICCA) in 2018, 2019 and 2020 competitions where he received special awards for outstanding vocal percussion.
The Canadian Beatbox Championships are held annually but have been suspended due to the pandemic. Cuenca likewise qualified in 2020 as a wild card to represent Canada in the international acappella competition Vokal Total'sbeatbox battle slated to be held in Austria. Unfortunately, the international competition was likewise cancelled due to the pandemic.
---