With the goal of competing in the 2022 Winter Olympics, the Philippines' first bobsled team just proved that the goal isn't lofty for a team born and raised in the tropics.
In March, the team won bronze in the men's category at the 2019 Alberta Cup Provincial Championship in Calgary.
The Alberta Cup is the team's North American debut, having previously competed in Austria.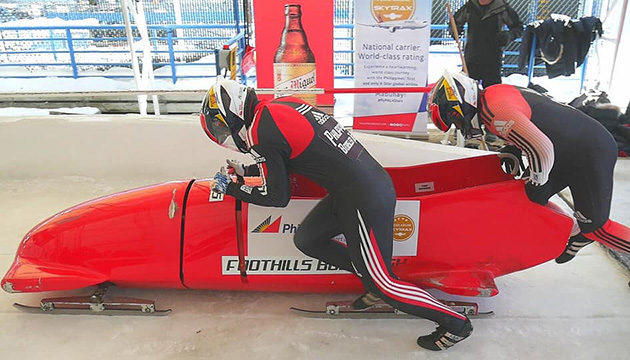 Driver Rolando Isidro and brakeman Jerby Deriada took third spot, while driver Jeffrey dela Cruz and brakeman Joseph Acosta took fourth place. Both Philippine teams competed against nine other teams from Canada.
Isidro and Deriada were only less than two seconds behind Canadians Jess Hansen who took gold and Derek Van den Brink who took silver.
All four members of the Philippine bobsled team are active duty seamen from the Philippine Coast Guard. They previously trained in Innsbruck, Austria before making Calgary their training home base.
In choosing a home base, Philippine National Bobsled, Luge and Skeleton Association (PNBLSA) president Buddy Cunanan said that the team needed "a dynamic, empowered, forward-looking, creative and successful community of Filipinos…to be our partner in this endeavour and to help us with logistical challenges." Cunanan confirms, "I'm happy to say that I've found all these elements in Calgary."
The Philippine bobsled team is not only the first in the Philippines, but also in the entire Southeast Asian region. Its ultimate goal is to compete and represent the Philippines in the 2022 Winter Olympics to be held in Beijing, China
---
Canadian Filipino Net is an independent, non-profit digital magazine produced by volunteer writers, editors and web masters. You can subscribe for free. To keep us going, we need your help. Donations of as little as $5 or $10 will go a long way so we can continuously write and publish stories about Canadian Filipinos. Just click on a donate button and proceed either through PayPal, Debit or Credit Card. You will receive a receipt at the end of the transaction. Thank you for your support.