As sang by angels, the first Christmas of the Holy Family in a lowly stable in Bethlehem one December night long ago was about love and peace.
Over the years, as varied characters tried to capture the starring role of this religious holiday for themselves, this message of Christmas has become blurred. Old King Wenceslas, the young martyr St. Lucy and jolly old Saint Nick were all outshone by the red-suited Santa with 12 flying reindeers who took Christmas to new heights of commercialization.
In predominantly Catholic Philippines, the Ninong and the Ninang (baptismal godparents) play important roles at Christmas time. Their godchildren visit them on Christmas day to pay their respects by kissing their hand; they give their blessings and Christmas presents in return. Sadly, amidst the gift giving, feasting and merry making, the real message of Christmas is often lost. Alas, there is even a growing trend to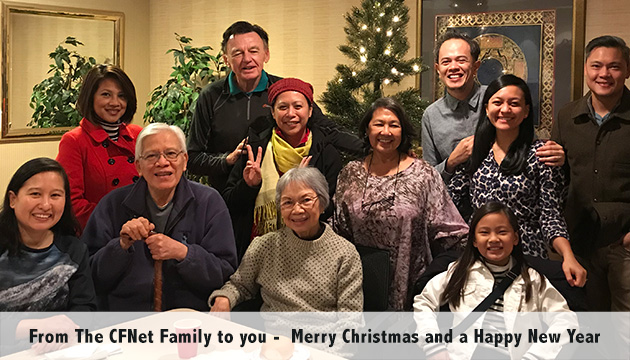 replace the holiday greeting of "Merry Christmas" with a generic "Happy Holidays" and take Christ out of Christmas and replace him with an X.
For Filipinos in Canada, immigration has somewhat changed their celebration of Christmas. Some Filipino parishioners have introduced the Philippine tradition of Simbang Gabi to their churches although these masses are held at night instead of early dawn. Instead of snacking on puto bumbong and bibingka in the churchyard or hanging a parol at home, they bake shortbread cookies or make do with a string of lights to substitute for the parol. But always on those frosty December days, happy past Christmases are remembered and retold bringing loved ones here and there even closer. For it is traditions inherited, enhanced and continued that bring comfort and joy to this greatest holiday season.
When the fragrant evergreen tree is finally set up and topped with a glowing star, the crèche displayed in its place of honour and adored, packages wrapped and cookie tins filled, the family pauses as it all seems strange and alien from the Philippine Christmases of their past with nary a snowflake in sight. But they have chosen Canada to be their home of second chances and they are Filipinos, no matter which part of the world they make our nests. Thus whether in the Philippines or in Canada, the Filipino family's celebration of Christmas continues to be centered on the family and from there spreads outward in ever widening circles to embrace neighbors, relatives and friends old and new, near and far.
Although they may not hear carollers with tansan tambourines outside their door singing "sa may bahay ang aming bati..." most Filipinos in Canada still hang onto their faith that Christmas is about love and peace and everything that is good and lasting. They hold on to the hope that someday, in Canada, Christmas will hold an even more special meaning because they have brought the warmth of their Philippine Pasko to their home of second chances. As Christian families they will always welcome the Lord and His message of love no matter where they find themselves at Christmas time.
By the CFNet Editorial Board
Contact us at: This email address is being protected from spambots. You need JavaScript enabled to view it.