A group of friends living in Vancouver, passionate about saving the Philippines from a possible Bongbong Marcos presidency, decided to follow what their consciences had been telling them to do for what is best for the Philippines.
They organized a fundraiser to help Leni Robredo's campaign for the presidency in the foreboding May 2022 national election. In support of their efforts, Goldilocks kindly offered their boodle box to boost the fundraiser.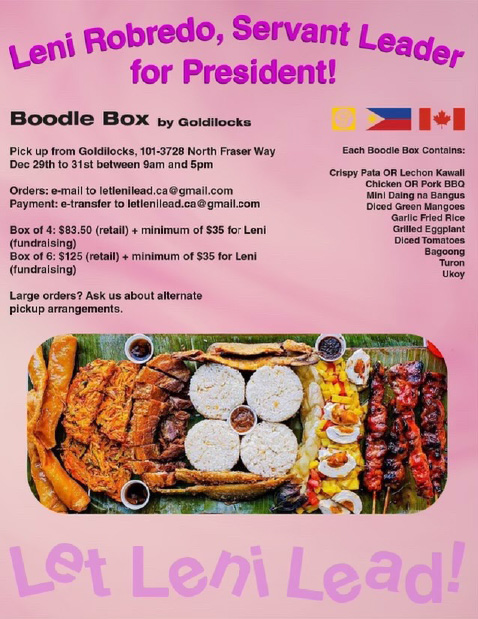 Goldilocks Boodle Box for Leni Robredo's fundraising drive will not only delight on New Year's eve but may help elect the best president the Philippines will ever have in this pandemic time..
The Boodle Box fundraiser is timed for New Year's Eve celebration in the hope that the coming new year will bring the Philippines a new administration led by President Leni Robredo
Each Goldilocks boodle box contains Crispy pata OR Lechon kawali, Chicken OR pork barbeque, mini daing na bangus, diced green mangoes, garlic fried rice, grilled eggplant, diced tomatoes and itlog alat, bagoong, turon, and ukoy.
Choices for The Boodle Box for Leni fundraiser are the following:
Box of 4: $83.50 (retail) +minimum of $35 for Leni (fundraising)
Box of 6: $125 (retail) + minimum of $35 for Leni (fundraising)
Large orders are possible. Ask about alternate pick up arrangements by email to: This email address is being protected from spambots. You need JavaScript enabled to view it.
Order Boodle Box by email to: This email address is being protected from spambots. You need JavaScript enabled to view it.
Pick up from Goldilocks at 101-3728 North Fraser Way
December 29th to 31stbetween 9 AM and 5 PM

Payment by: e-transfer to: This email address is being protected from spambots. You need JavaScript enabled to view it.
If you decide not to order the Boodle Box, you may wish to send your donation for Leni's campaign by Interac e-transfer to the same email address: This email address is being protected from spambots. You need JavaScript enabled to view it.
Leni's campaign team needs financial support to win the Philippine presidency. Unlike other candidates, she has limited financial means to run the campaign for the May 9, 2022 elections. The current frontrunner presidential candidate has millions of ill-gotten money to buy a 6-year term in Malacañang. But Leni is not like most traditional Filipino politicians who have enriched themselves in public office.
Her legal background and untainted record in public service -- as public prosecutor, Congress Representative for Camarines Sur, and as Vice-President of the Republic during a very difficult and polarizing Duterte regime -- have shown her unwavering concern for social justice. She has proven her competence and experience through her achievements.
If elected, she will restore decency, competence, prestige, and high ethical standards to the top executive office of the Philippines. She stands for good governance and is not corrupt, and will consistently be incorruptible. She has a heart for the Filipino people, especially the poor. She will lift the country out of poverty, debt-driven burdens and international disgrace. She will restore confidence in the Philippines once again, both globally and locally. Her leadership style inspires collaboration and cooperation from the grassroots. She will be a true servant-leader. She is the most qualified, most competent, and most committed among the five presidential contenders for 2022. She is the Philippines' only hope for the future in the midst of this ongoing pandemic.
The "Filipinos in Vancouver for Leni" are hoping that in gratitude to their land of birth and nurturing for preparing them to succeed as immigrants in Canada, Canadian Filipinos will now come to the aid of their Bayang Magiliw by supporting Leni for president and convincing their family and friends back home to support her too.
Click to enlarge images


Paid ad by Filipinos in Vancouver for Leni
---