July 1, 2023 - Over 300 nurses and healthcare professionals from the Philippines are expected to arrive in Manitoba as early as late summer with more arriving in the fall to join the province's healthcare workforce.
Manitoba's health minister Audrey Gordon said in a media release, "More than 300 internationally educated health-care professionals have now accepted job offers to work as registered nurses, licensed practical nurses, or health-care aides in communities located right across our province. Our government is committed to healing our health-care system and building our health human resource capacity, so that more patients have access to the care they need."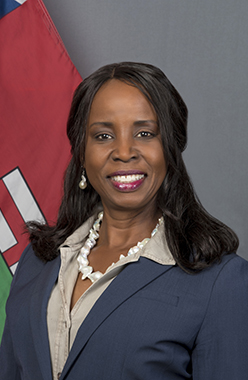 Manitoba minister of health Audrey Gordon.
Of the 348 candidates who passed interviews held in the cities of Manila, Cebu and Iloilo in February and were provided letters of interest, about 90 percent now have accepted job offers in Manitoba. Gordon noted that this high success rate reflects effective planning and co-ordination of this focused recruitment mission.
Gordon and labour and immigration minister Jon Reyes announced on June 27 that candidates are now "one step closer to their dream of living and working in Manitoba communities."
Candidates who have accepted an offer have begun immigration and licensing processes and are expected to complete specific requirements in the coming months to allow for employment in Manitoba's healthcare system, Gordon reported.
"The desire amongst Filipino healthcare workers to live and work in Manitoba remains high," said Reyes who is Canadian Filipino. "The connections between Manitoba's local Filipino community and those who remain in the Philippines cannot be overstated. Manitoba is known as an extremely welcoming and friendly province, a place where dreams and success can be achieved through determination and hard work, and a community where the contributions of healthcare workers are valued. We look forward to giving them a warm welcome when they arrive in our province."
The Manitoba government is also providing $100,000 in funding for a group of University of Manitoba nursing faculty assessors to travel to Manila to complete in-person clinical competency assessments in early July, Gordon added. More than 20 internationally educated nurses have confirmed participation and will be assessed for nursing knowledge and practice during this session.
"Leading up to the arrival of these new registered nurses, licensed practical nurses and health-care aides, we are focused on ensuring a smooth arrival with travel and accommodation arranged for them, orientation and mentorship to their future work location, and settlement services in the community that they will soon call home," said Monika Warren, chief nursing officer, Shared Health. "Candidates have been assessed for skills and experience as well as any existing connections to a Manitoba community before being offered a role in a specific location."
Shared Health,which plans and coordinates the integration of clinical and preventive health services across Manitoba, has also issued a request for proposals from interested parties to assist in finding safe, affordable housing for incoming staff in communities throughout the province.
Canadian Filipino Ken Borce, CancerCare Manitoba's chief of clinical operations, said, "My journey as an internationally educated nurse in Manitoba has been incredible and I am proud and grateful for what my family and I have achieved and contributed to the community here in Canada. Throughout my career, I have believed in doing my ordinary duties extraordinarily well with not only competence but also compassion and commitment. This mindset, in a province of countless opportunities, creates an ideal environment for success."
---
---