Most internationally educated professionals find themselves struggling to fully integrate into the Canadian labour market. The biggest road blocks include unfamiliar processes like credential evaluation, and regulatory bodies who often do not recognize internationally-trained professionals.
In a panel discussion held June 28, 2017 at the main branch of the Vancouver Public Library, Stumbling through Paradise: A Feast of Mercy for Manuel del Mundo author Eleanor Guerrero-Campbell moderated an expert panel discussing how internationally-trained immigrants can access professions in B.C. in the fields of engineering, nursing, and law.
The panelists included Silvia di Blasio, a certified career counsellor/life coach and Case Manager of Career Paths for Skilled Immigrants at ISS of B.C. specializing in engineering; William Chan, a career coach at Career Paths for Skilled Immigrants at Douglas College assisting international educated health professionals to navigate paths to licensure and employment; and lawyer Dulce Cuenca, admitted to the bars of British Columbia and the Philippines and currently an Employment Relations Officer at a national labour union.
Reading a scene from Stumbling through Paradise: A Feast of Mercy for Manuel del Mundo as a springboard for the discussion, Honorio 'Jr' Guerrero and Melvin Magno took the audience to a familiar scenario of a new immigrant engineer struggling to find work in his profession.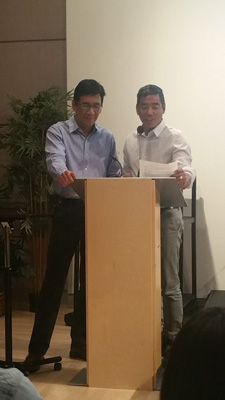 The panelists agreed that there are many barriers facing immigrants in practising their profession in Canada, but indicated that there are numerous programs and resources to help new immigrants navigate the process.
The first step is for immigrants to get their credentials evaluated and know the regulatory bodies and their roles. Nurses should check out National Nursing Assessment Service. Engineers should check out the Association of Professional Engineers and Geoscientist of B.C. (APEGBC). Those aspiring to join the bar of B.C. should check out the Law Society of British Columbia and the Federation of Law Societies of Canada.
For those without the ways and means to focus on getting the local license, the panelists pointed out alternatives to the direct pathway. Some lawyers started as paralegal, some registered nurses as practical nurses or caregiver, and some engineers as engineering technicians.
Institutions such as ISS of B.C., Douglas College, Mosaic, DiverseCity, and SUCCESS have programs helping out new immigrants by providing mentorship, giving access to networking events and internship programs, providing allowance or loans for training, and workshops for career planning and job search.
Sponsors of the event – Vancouver Public Library and Canadian Filipino Net – both have information programs that help skilled immigrants such as the Skilled Immigrant Information Program of the VPL and the Column Paths for Skills Immigrants in www.canadianfilipino.net
However, new immigrants should not rely on the government and community agencies alone. The experts agreed that persistence will take immigrants a long way. They encouraged immigrants to keep on improving their English communications skills, expanding their network, and keeping a positive attitude. They left a message of hope for skilled immigrants that with resourcefulness and persistence, they do not have to 'stumble through paradise'.
---
---