Where are you from? It's a question that I've always struggled to answer because, well, it's complicated.
I was born in Manila, Philippines, but moved to Toronto, Canada when I was just four years old.
Growing up, I never felt particularly Filipino. My family never really adhered to cultural traditions. We didn't subscribe to the Filipino Channel to watch the latest teleseryes. I didn't have a debut or a cotillion for my 18th birthday and my family rarely, if ever, went to church. The truth is, I always felt like a watered-down version of what a Filipino is supposed to be.
And yet, something about our giant extended family, the fact that any and every Filipino I come in contact with instantly becomes my tita/tito/ate/kuya, my love for and commitment to karaoke and lumpia, the gratitude and obligation I feel towards my parents, and this spirit of resistance that runs through my veins - all that has always made me feel so fiercely Filipino.
But of course, I'm also proudly Canadian! My progressive values, my welcoming and empathetic nature, my "eh" and my "oh, I'm so sooorry!", my embrace of multiculturalism and diversity - these make me want to shout out like the beer commercials of the 90s that "I. Am. Canadian!!!"
And yet, there are many times when I don't ever really feel Canadian either. Mostly because I don't even know what it means to be one. When you grow up in one of the most ethnically diverse countries and yet only see white "Canadian" faces and voices represented in the media, well then, what's Canadian? When ethnic "minorities" are the majority in your school, but you learn in your textbook that the "first Canadians" were European and everyone else who came after is an "immigrant". And never mind the various Indigenous nations who were here long before the "first Canadians". Well, again, what or who exactly is Canadian?
I've spent the majority of my life in the true North, strong, and free but somehow, despite spending such little time there, I still feel a deep and powerful connection to my ancestral lands of Mabuhay! Philippines. My life has been this constant tug of war, an ongoing push and pull of these two places, two cultures, two identities. In short, it has been a life of living in between, of living in the hyphen.
As I've opened up about these feelings to people within the Filipino diaspora and other ethnic communities, I realized that my experience was not unique. I've learned that I'm not alone in navigating this ambiguous in between place. That flash of recognition and connection whenever I described my entanglement of contradictions is like a surge of electricity that fuels me each and every time.
And that's why I brought life to Living Hyphen.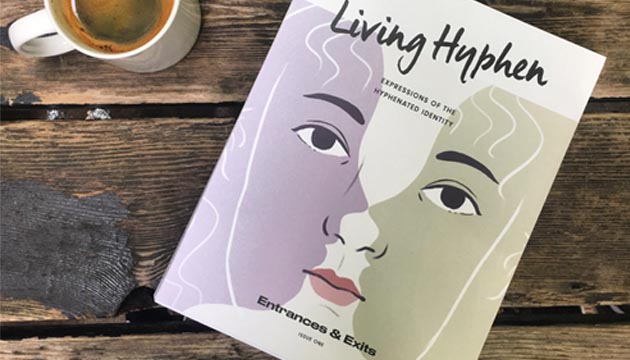 Published in October 2018, Living Hyphen is a magazine that explores the experiences of hyphenated Canadians – that is, individuals who call Canada home but who have roots in different, often faraway places. Through short stories, photography, poetry and illustrations, we examine what it means to be a part of a diaspora.
From the Haitian-Quebecois commuting along the Montréal Métro to the South Asian trans man applying for permanent residency, from the young Filipino-Canadian woman texting her immigrant mother to the Plains Cree and Métis man meeting a traditional healer, this magazine reveals the rich inner lives of Canada's diverse communities. Our inaugural issue entitled "Entrances and Exits" boasts of contributions from artists and writers who hail from over thirty ethnicities, religions, and Indigenous nations.
Within one month of our launch, we sold out our first run of 500 copies. We've since reprinted and secured distribution in bookstores all across Ontario, including select Indigo Chapters locations, and with our sights set on national distribution.
We're just getting started, but already, we are growing rapidly. And it is abundantly clear that Canadians are hungry for these stories that better reflect their own experiences. In a country that boasts of multiculturalism, where millions of people claim over 250 distinct ethnic origins, and where "diversity is our strength", it is no wonder that this magazine has been hitting a nerve.
The contradictory knots of our identity may never untangle themselves. And maybe they aren't meant to. But hopefully together, through Living Hyphen, we can come to intimately know all its shapes, curves, and intersections.
You can purchase Living Hyphen's inaugural issue online at www.livinghyphen.ca or find it in these select bookstores across Ontario. Follow all of Living Hyphen's updates and growth across social media at @livinghyphen.
---
---