July 16, 2020 - The City of Vancouver has completed the renovation of a plaza to commemorate the late Canadian Filipino author Mel Tobias.
Tobias passed away in 2017. He would have been 81 years old on July 29, 2020.
The Mel Tobias Plaza is located on the southwest corner of Kingsway and Joyce Street.
On September 19, 2018, Vancouver city council approved the renaming of the site previously called the Collingwood Clock Tower Garden in honour of Tobias.
In spring this year, the city installed a plaque celebrating the life of Tobias, who was also a contributor with Canadian Filipino Net.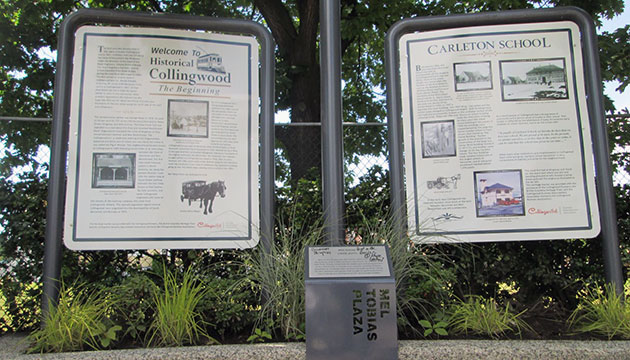 The Mel Tobias Plaza is at the southwest corner of Kingsway and Joyce Avenue.
The plaque reads:
"Mel Tobias (1939-2017). Born in the Philippines, Mel Tobias spent many years in Hong Kong, and in 1993 settled in Vancouver. As a writer and radio host, Mr. Tobias chronicled the challenges and achievements of his community in Canada and inspired countless Filipino-Canadians to celebrate their unique and multi-faceted culture. He also championed causes that sought to uplift newcomers, live-in caregivers, immigrant youth, and women leaders."
For details on Tobias' multi-faceted life, here's a tribute by Canadian Filipino Net's Prod and Eleanor Laquian: https://www.canadianfilipino.net/sections/community/a-tribute-to-mel-tobias
---
Canadian Filipino Net is an independent, non-profit digital magazine produced by volunteer writers, editors and web masters. You can subscribe for free. To keep us going, we need your help. Donations of as little as $5 or $10 will go a long way so we can continuously write and publish stories about Canadian Filipinos. Just click on a donate button and proceed either through PayPal, Debit or Credit Card. You will receive a receipt at the end of the transaction. Thank you for your support.