Editor: In February of this year, a possible strike and walk-out by custodial staff was averted when a tentative deal was struck between union and management at the Capilano University.
Capilano Courier, the university's campus newspaper, ran a feature detailing the event and its participants, particularly the union membership the majority of which were of Filipino heritage. The feature's writer, Carlo Javier, shares with us his thoughts on the matter being a Filipino immigrant and a university student. Below is a link to the article:http://www.capilanocourier.com/2018/03/13/cleaners-immigration-janitorial-work-filipino-canadian-identity/
When I first heard about the living wage campaign that the cleaners of Capilano University were putting together nearly a year ago, I knew right away what kind of story I wanted to write.
While the conversation about raising wages, providing health benefits, and guaranteed sick days could not be overlooked, there was one very real issue that I knew the community of Capilano University would miss: race.
I'm a 24-year-old Filipino immigrant, a graduate of Capilano University's Bachelor of Communication Studies program, and the outgoing editor-in-chief of the campus' official newspaper. In my 12 years in Canada, I've seen and experienced my fair share of racialization. Filipinos in Canada have long been intrinsically linked to the Live-In Caregiver program and that stereotype has expanded itself to custodianship.
A quick look at the union's posters and campaign flyers reinforced my case. The janitors at the university are predominantly Filipinos, exactly 22 of the 29 are. One of the individuals I spoke with during my research for the article was Leo Alejandria of Service Employees International Union (SEIU) Local 2. For over 20 years, Mr. Alejandria worked as a cleaner in a host of Vancouver schools. These days he works with the union and volunteers with the BC chapter of Migrante – an international advocacy group for migrant Filipinos.He estimates that 60 per cent of cleaners in the Lower Mainland are Filipino.
The numbers are shocking, but they made perfect sense to me. I know too many family members, friends, and acquaintances who have dabbled in the cleaning industry. It is an honest job and one that should really not be looked down on – but it does sting when you're a college-educated immigrant who may have built an impressive professional career in the Philippines, only to find yourself cleaning toilets and tables at schools, offices, and malls.
This is the story I wanted to write about, a story about racialization and dehumanization. One that looked at how the caregiver stereotype have evolved into the cleaner stereotype, and just how venomous this assumption can be.
Every night, Eymard Caravana swings by our office at the Capilano Courier to do a routine cleanup. Our office is just a small part of Maple, a single-level building with a full student lounge, a student union office and three classrooms. Every night, Mr. Caravana cleans the entire building by himself. Oh, and he also cleans one of the floors of the bigger film building next door.
Every Friday night, up until the end of the Courier's publication calendar this past April, the friendly Mr. Caravana would see and greet the editorial staff. I would often talk to him about their campaign and how much a victory would mean to him and to his colleagues. Even before I had written any sort of article myself, Mr. Caravana was incredibly effusive in his gratitude – simply for me discussing their situation with him.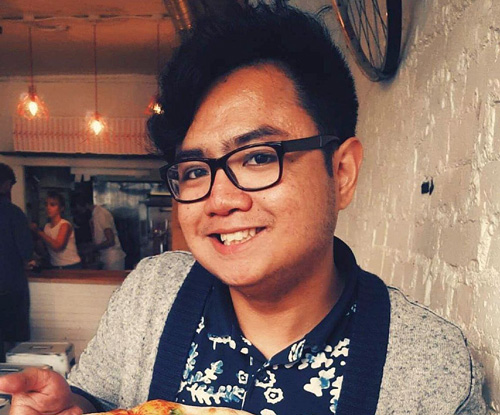 It was Mr. Caravana who unknowingly and unintentionally pushed me to pursue the story I wanted – the story that only I could have written at Capilano. There was no point in me holding off on writing a story about the intrinsic relationship between the Filipino identity and the cleaning industry. No one else was going to write it, certainly not one of a different race or ethnicity. It's the very thesis of every conversation surrounding representation – why would we have someone else tell the story of an entire group of people?
In one of my conversations with Mr. Caravana, he spoke about maintaining the utmost level of professionalism in his job – no matter what his job is. It was a simple message that I knew was important then, but only really grasped its true weight weeks after my story was published. If we were to take away some positives from all the racialized identities that have been built for Filipinos in Canada, then I'd be happy with professionalism. Filipinos do indeed work well and hard – even if it's a job we never thought we would end up with.
---