Five artists of Filipino heritage are participating in a month-long exhibit aimed at encouraging dialogue around women's roles, struggles, and triumphs. The exhibit titled Essence will open on April 26 at the CityScape Community Art Space at 335 Lonsdale Avenue in North Vancouver.
According to the lead artist and exhibition producer Esmie Gayo McLaren, the exhibit aims to "stimulate conversations about the issues and challenge viewers to be part of the solution." She hopes that every viewer will start "a ripple effect of positive influence."The participating artists aim to spark a conversation about personal solutions to women's issues.
"When I first thought about the concept two years ago, there had been reports of violence against women at UBC campus and nearby SkyTrain stations," McLaren shares with Canadian Filipino Net. "Because of this and conversations about gender inequality in the workplace, I decided to propose an exhibit with chosen artists."
Essence will feature the works of visual artists Lenore RS Lim (Vancouver, New York, and Manila), Pamela Gotangco (Switzerland), Chito Maravilla (Vancouver), Danvic Briones (Vancouver) and Esmie Gayo McLaren (Vancouver).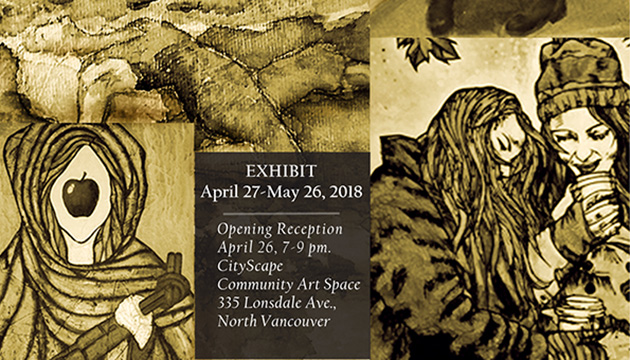 Printmaker Lenore RS Lim is the founder of the Filipino Music and Art Foundation in BC and has received various awards including the Pamana ng Pilipino Award in 2004 and the Outstanding Professional Award for Fine Arts from the University of the Philippines Alumni Association in 2005. Her Comfort Women series depicts the Filipino comfort women's determination to overcome the shame of the sex slavery they were subjected to during World War II. Lim went to the United States in 1975, then moved to Vancouver, British Columbia, Canada and currently lives with her family in New York City where she was awarded a prestigious Jackson Pollock-Lee Krasner Foundation Grant, among other honors.
Painter Pamela Gotangco has participated in prestigious art fairs such as Art Shopping in Carrousel du Louvre in Paris, SCOPE Basel 2016, Art International Zurich and Manila Art 2015. Her recent works reflect trending socio-political issues including an equal opportunity for women and draw insight from women's role in society. Her works have been digitally displayed in iconic locations such as Times Square in New York City, art fairs such as Art Basel Miami and in famous galleries such as Saatchi Gallery London.
Based in Vancouver, Esmie Gayo McLaren's narrative artmaking revolves around subjects that resonate with her spirit as an artist, woman, and global citizen. Often blurring lines between painting and volunteer work, McLaren enjoys bridging communities through her art whether acting as an advisor to the Vancouver Asian Heritage Month Society, regularly exhibiting either solo or in groups, or organizing exhibits and events for other artists.
Joining the three female artists are male artists Chito Maravilla and Danvic Briones, who are both painters and graphic artists.
Chito Maravilla works as a full-time graphic designer at Smartfilms where he creates graphic designs for various commercial and corporate institutions. Aside from creating commercial designs, Maravilla is also an emerging artist whose works are displayed at venues such as the Vancouver International Airport, Surrey Art Centre, and Lipont Centre in Richmond. He is active in many art organizations including the Surrey Art Gallery Association and Dimasalang III International Artist Group under the tutelage of Sym Mendoza.
A recipient of several awards, Danvic Briones exhibits in Asia, the United States, and Canada. Described as a renegade artist, Briones has added printmaking to his visual arts skills. His pieces depict women's slice of life moments, showing the blurring and sharpening of boundaries between the roles and stature of women and men in present society.
Philippine Ambassador to Canada Petronila B. Garcia will be the guest speaker at the exhibition's opening reception on April 26 starting at 7 p.m. The Essence exhibit will then travel to the Philippine Embassy in Ottawa in September 2018 where the works of two members of the city's artistic community, Melanie Yugo and Kristina Corre, will be included.
As part of the month-long event, two educational talks are also scheduled. On May 12, Lenore RS Lim will talk about her series on comfort women, her mother's influence, and the process of printmaking. On May 19, Associate Professor Leonora Angeles of UBC's School of Community and Regional Planning and the UBC Social Justice Institute will deliver a talk to immigrant youths and the community about women's issues. Both events will be held at the CityScape Community Art Space starting at 2 p.m.
Click to enlarge images

---
---