In an awards ceremony held February 15 at the MacEwan University, the Edmonton Arts Council (EAC), City of Edmonton and Edmonton Community Foundation recognized the 2017 recipients of the annual Cultural Diversity in the Arts project grants and the Edmonton Artists' Fund awards.
Three of the 27 awardees were Canadian Filipinos.
Musical director Erica Cawagas, and visual artist Jonathan Sherrer both received the Cultural Diversity in the Arts program grant, aimed at providing support for specific projects.
Arts and culture advocate Ida Beltran-Lucila is this year's lone Filipino recipient of the Edmonton Trust Funds award, unofficially known as the "stay in Edmonton award". According to the EAC, the $15,000 prize is awarded to "artists at all stages of their professional careers, in all fields and any artistic tradition, who demonstrate excellence in their field and commitment to working in and contributing to the Edmonton region's arts community."
For over two years, Erica Cawagas wrote the original music score for Emma the Musical, a musical that highlights the perseverance, faith, and resilience of the Filipino spirit in peace or in war. Cawagas is currently musical director for the musical which will hold Its inaugural staging on July 7, 2018 at the Myer Horowitz Theatre of the University of Alberta.
Visual artist Jonathan Sherrer will be examining his Canadian Filipino heritage through a room-sized, free-standing autobiographical "comic book" unfolding as two narratives, one following his Eastern/Filipino identity and the other his Western/Canadian identity.
Ida Beltran-Lucila began her career as a principal dancer with Ballet Philippines, pioneering a dance therapy program in Manila prior to moving to Canada with her family. She actively celebrates Filipino culture in Edmonton's arts community by teaching dance, choreographing, co-founding the Philippine Arts Council, organizing the annual Philippine Fiesta and launching The Learning Table, a workshop and roundtable discussion series connecting performing arts students and young artists with established visiting performers from the Philippines.
Beltran-Lucila plans on holding more workshops and classes on Philippine folk dance, "not just learning the dances but a structured way of learning it, complete with a syllabus." She also aims to "conceptualize and produce collaborative performances across arts disciplines among Filipino artists an across the Edmonton artistic community."
Of receiving the trust fund, Beltran-Lucila was elated. "I was thrilled to learn that I was a recipient. Aside from the grant, it is an honour to be recognized from among a huge pool of artists to choose from." She adds, "The Edmonton Arts Council and the Edmonton Community Foundation are very aware of an artist's life and they have been supportive, not just with the awards process but for whatever plans you may have in the future. They are keen on following your projects and making sure that you remain active in your art."
The City of Edmonton, through the EAC, established the Cultural Diversity in the Arts program to recognize artists from all parts of the world who enrich the city's cultural scene. The Edmonton Artists' Trust Fund is a partnership between the Edmonton Community Foundation and the EAC to provide 20 years of awards annually to exceptional local artists. According to Craig Stumpf-Allen, Edmonton Community Foundation Director, the recipients "help make Edmonton a vibrant and engaging city, extending the impact of the awards far beyond their monetary value."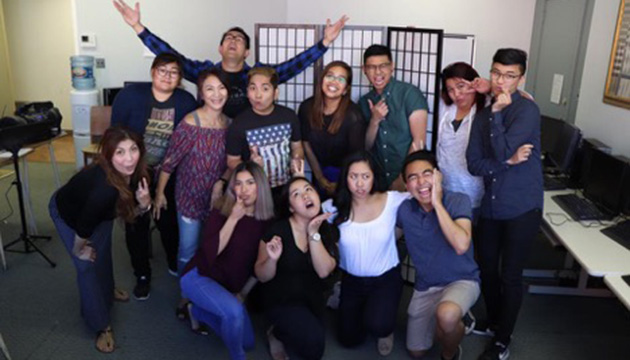 ---
---
Canadian Filipino Net is an independent, non-profit digital magazine produced by volunteer writers, editors and web masters. You can subscribe for free. To keep us going, we need your help. Donations of as little as $5 or $10 will go a long way so we can continuously write and publish stories about Canadian Filipinos. Just click on a donate button and proceed either through PayPal, Debit or Credit Card. You will receive a receipt at the end of the transaction. Thank you for your support.