Editor's Note: This is from Dr. Pagtakhan's column, Medisina at Politika, in Pilipino Express.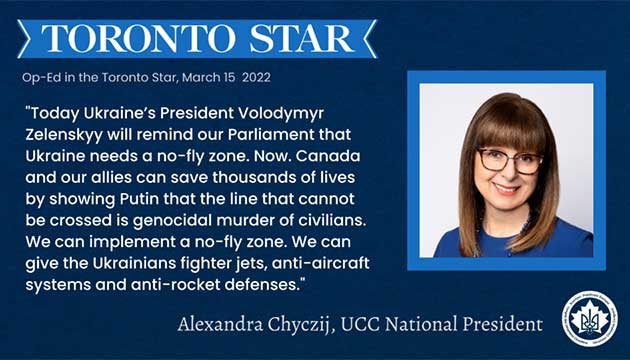 "To any extent we could, we in our community, anywhere we are, must add our voice to the collective voice of human dignity and decency."

– Dr. Rey D. Pagtakhan
[Canadian Filipino Net and Pilipino Express. March 1, 2022.]

"What is the fault of those young mothers and their children? We would have to possess a heart of stone in order to remain impassive and allow this havoc to continue, as rivers of blood and tears continue to flow… "

– Cardinal Secretary of State Pietro Parolin
[Andrea Tornielli: Vatican News Media. March 12, 2022.]
March 16, 2022, Winnipeg: "It seems everything…already done is still not enough… They want to kill even more…This is murder. Deliberate murder," said Ukrainian President Volodymyr Zelenskyy in his impassioned message on Sunday March 6 on the 11th day into Putin's War in Ukraine. Three days later on Wednesday March 9 – the 14th day of the war – Russian bombs hit the maternity and children's wards in a hospital in the city of Mariupol. "The air bomb on the maternity hospital is the final proof…that the genocide of Ukrainians is taking place," said the President.
---
Excerpts from March 6, 2022 President Zelenskyy's Message: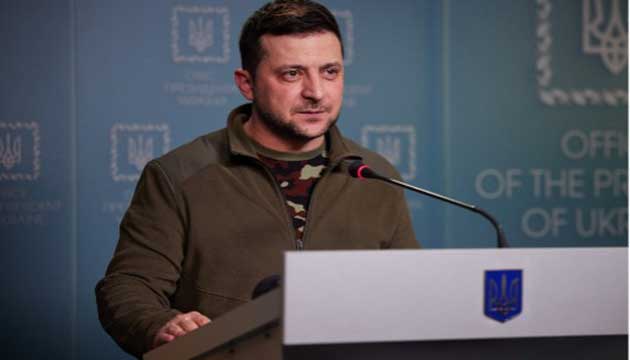 President Zelensky: 'It seems everything…already done is still not enough…They want to kill even more… This is murder. Deliberate murder." (Photo and speech from Ukrainian Presidential Official website. March 6, 2022)
"Today is Forgiveness Sunday. A day when we always apologized. To each other. To all people. To God. But today, …many have not mentioned this day…Have not mentioned the obligatory words: "Forgive me." And the obligatory answer: "God forgives, and I forgive." These words seem to have lost their meaning today…After everything we went through.


We will not forgive the destroyed houses. We will not forgive the missile…today. And more than 500 other such missiles that hit our land…our people and children. We will not forgive the shooting of unarmed people. We. Will. Not. Forgive. Hundreds and hundreds of victims. Thousands and thousands of sufferings…instead of Forgiveness, there will be a Day of Judgment.


It seems everything…already done is still not enough…They want to kill even more…This is murder. Deliberate murder.
Excerpts from President Zelenskyy's March 9th Message:
(Speech from Ukrainian Presidential Official website)
Today …Russian bombs fell on a …maternity hospital in Mariupol. …What kind of country is this – the Russian Federation – which is afraid of hospitals and maternity hospitals and destroys them?
All destroyed cities. …Destroyed hospitals. Destroyed schools, churches, houses. And all the people killed. All the children killed.
The air bomb on the maternity hospital is the final proof…that the genocide of Ukrainians is taking place…"
---
Wrote Vatican News at the conclusion of Pope Francis' Sunday Angelus in St. Peter Square in the Vatican City on March 13: "The Pope expressed horror over the barbarity of the killing of children, innocents and unarmed civilians, and called for an end to the unacceptable armed aggression before it reduces cities to cemeteries."
Quoting Pope Francis: "With pain in my heart, I join my voice to that of the common people, who implore an end to the war. In the name of God, let the cries of those who suffer be heard and let the bombings and attacks cease! Let there be a real and decisive focus on negotiation, and let the humanitarian corridors be effective and safe. In the name of God, I ask you: Stop the massacre!"
Crossing a red line
Atlantic Council senior fellow Michael Bociurkiw describes in his commentary, "If bombing a children's hospital isn't crossing a red line – what is?" how he heard the news of the hospital bombing (CNN News. Fri March 11, 2022): "On Wednesday evening in Lviv, I was jolted awake by what I thought were nearby explosions. Instead, news alerts on my phone lit up with the unimaginable horror unfolding in the southern Ukrainian port city of Mariupol. A bomb had struck a hospital, destroying the maternity and children's wards. Grainy images and video showed an Armageddon-like scene: vehicles on fire, the outside grounds singed and a crater large enough to accommodate two men head to toe. A dazed, bloodstained, pregnant woman was being led out by rescue workers. Three people died in the strike and more than a dozen were injured – among them children, women and doctors."
The World Health Organization has documented that at least 24 hospitals and medical facilities have been hit during this war.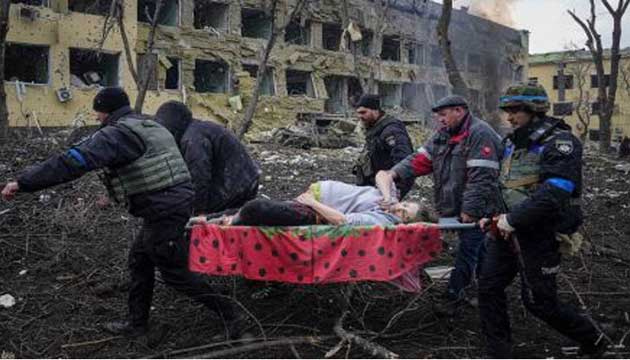 Emergency employees and volunteers carry an injured woman, heavily pregnant, on a stretcher past the smouldering wreckage of Mariupol's hospital that was damaged by shelling on Wednesday, March 9, 2022. Her face is pale, one hand cradles her belly in a protective gesture. Every window on that side of the building appears to be blown out and wreckage litters the ground. (Tim Lister, Laura Smith-Spark, Olga Voitovych and Rob Picheta: CNN,Kyiv.March 10, 2022. Photo by Evgeniy Maloletka).
On March 14, news reported that both the injured pregnant mother and her unborn baby who was delivered by an emergency Caesarean section cannot be resuscitated and died. A cruelty of Putin's war!
Humanitarian crisis
Bociurkiw continued: "I've worked in many complex humanitarian emergencies before, but this is different for me. These are my people being injured and killed. I watch as large swaths of the land of my ancestors, introduced to me in childhood through Ukrainian folk songs and poems as a bucolic land of freedom fighters and brave dissidents, is being transformed into killing fields."
And he shared these heart-wrenching stories of two mothers: "One Kyiv mother, Oksana, who endured a harrowing 47-hour journey to a safe haven in western Ukraine texted me for help in evacuating her only son to the West. She wrote: "I am very horrified and I am in despair right now. I have no peace. I cry every hour of every day. I am very tired. I have lost the meaning of life. I beg you for help."
"An Odessa mother, Katerina, tells me that while offers of western resettlement by countries such as Canada and the United Kingdom are welcome, it just isn't a viable option for her. 'I held on all these days and today I can't stop crying. There is chaos in my head and I don't know how to live on. This is my home. I look around me and don't know how I can leave it all … all my friends are at war now. If I leave, I will betray them … like I gave up and don't believe in them.'
Stories of two desperate mothers! I am sure there are hundreds, thousands and millions more mothers with similar agonizing feelings. Indeed, the scale of human dislocation and family separation is unfathomable.
At this writing deadline (March 12), over 2.5 million, mainly the elderly people, women and defenceless children, have taken refuge in neighbouring countries. Humanitarian groups help in the evacuation, provision of food and safe shelter, and attending to other health needs, physical, emotional and psychological, including minimizing the trauma to children in particular.
"The need for humanitarian assistance in Ukraine, that tormented country, is growing dramatically by the hour," said Pope Francis on March 6 in Vatican City. On March 10 – the 15th day of the war –the International Committee of the Red Cross issued this alarming news: "Hundreds of thousands of people have no food, water, heat, electricity, or medical care."
Enough havoc of war, never too late for diplomatic agreement
On March 11, German Chancellor Olaf Scholz and French President Emmanuel Macron again asked Russian President Vladimir Putin to call an immediate ceasefire; still unanswered.
Vatican's Secretary of State Cardinal Pietro Parolin reiterated Pope Francis appeal for an immediate ceasefire and subsequent end to the war; still unheeded. "Above all, I plead for an end to armed attacks, for negotiations to prevail … and for a return to respect for international law," echoed Pope Francis. He thanked the journalists who risked their lives to provide the news: "Thank you, brothers and sisters, for this service, a service that allows us to be close to the tragedy of that population and helps us assess the cruelty of a war."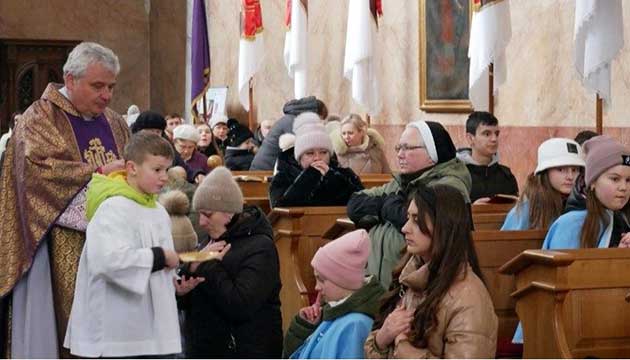 Cardinal Konrad Krajewski, Pope Francis' special envoy to Ukraine, in the parish of St. Lawrence Zhovkva, near Lviv, March 12, 2022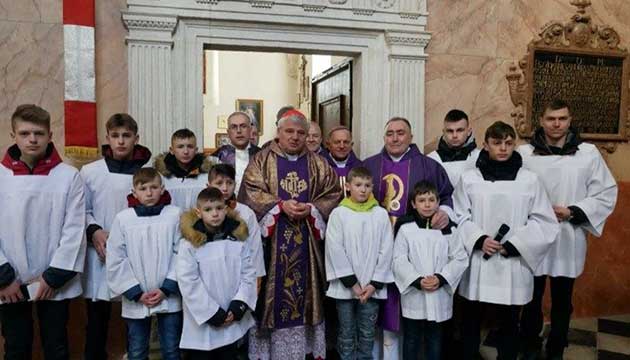 Cardinal Konrad Krajewski, Pope's special envoy to Ukraine, visiting the parish of St. Lawrence Shovkva, near Lviv, Ukraine, on March 12, 2022. (Photo: Cardinal Krajewski File)
Summary: Ukraine need a no-fly zone, Now!
The situation in Ukraine remains tense and serious. While we can continue to pray and hope for peace, the world cannot allow the life of a nation – Ukraine and her people – to be lost. The democratic world has the moral duty to stop the massacre of Ukraine and the genocide of her people. Time is of the essence. Putin's imperial obsession cannot be allowed to go on. Putin is a global pariah, has no shame, and must be stopped. I hope NATO finds the resolve and provides Ukraine a no-fly zone, NOW! Salve Ukraini and Glory to the World!
---